The Jolja' Cave Project
Vea este informe en Español.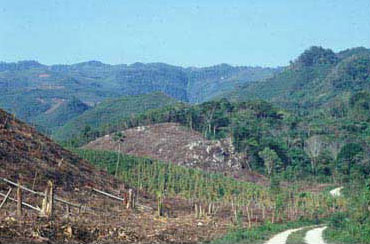 Research Year: 2001
Culture: Contemporary Ch'ol Maya
Chronology: Early Classic to Post Classic
Location: Misopa' Mountain, Chiapas, México
Site: Jolja' cave
Abstract
Resumen
Introduction
Site Location and Name
Regional Description
Sacred Caves
Regional Archaeological Reports
Postclassic and Colonial History
The Previous Studies of Jolja'
The 2001 Jolja' Cave Project Field Season
Description of Jolja' Cave #1
The Paintings
Group 1
Group 2
Painting 1
Painting 2
Painting 3
Group 3
Group 4
Group 5
Group 6
Group 7
The Nature of Don Juan
The Day of the Cross
List of Figures
Sources Cited
The site of Jolja' consists of three caves on a mountain cliff at the headwaters of the Ixtelja River, Chiapas (N 17 20.916' W92 19.509'). The caves are on the property of the Ch'ol Maya ejido of Joloniel. All three caves contain pre-Columbian pottery shards. An Early Classic Maya mural and seven groups of hieroglyphic texts are painted on the walls of Cave #1. These are the only Early Classic cave paintings ever found in the Maya region, and they refer to rituals performed in the cave between A.D. 300 and A.D. 435. The Ch'ol Maya of the region believe a god named Don Juan inhabits Jolja' and each year at Cave #1 they perform a Day of the Cross ceremony in his honor.
El sitio Jolja' está conformado por tres cuevas ubicadas en la cima de una montaña en la cabecera del Río Ixteljá, Chiapas (N 17 20.916' W92 19.509'). Las cuevas están dentro de los límites del ejido maya ch'ol conocido como Joloniel. Las tres cuevas contienen restos de cerámica precolombina. Un mural maya del clásico temprano y siete grupos de textos jeroglíficos están pintados en las paredes de la Cueva #1. Estas son las únicas pinturas en cuevas del Clásico Temprano encontradas en la región Maya y hacen referencia a rituales realizados en la cueva entre los años 300 y 435 d.C. Los mayas ch'oles de esta región creen en un Dios llamado don Juan que habita en Jolja' y cada año (el 3 de mayo), en la Cueva #1, celebran en su honor el Día de la Cruz.
---
Click to download the report in PDF format:
The Jolja' Cave Project (610 KB)
The PDF files require Adobe Acrobat Reader.
To download the latest version, click the Get Acrobat Reader button below.
Submitted 02/28/2002 by: