Icons of Empire: Royal Presentation and the Conception of Rule in Aztec México
Vea este informe en Español.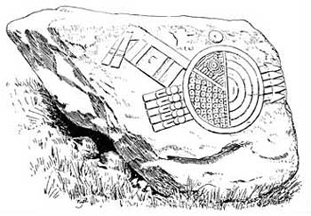 Research Year: 2001
Culture: Aztec
Chronology: Pre-Columbian and Colonial
Location: México City, México
Site: Chapultepec Park
Table of Contents
Introduction
Preconquest images
Textual Evidence of the Xipe Costume
The Museum Für Völkerkunde, Berlin, Figurine Collection>
Painted Images of Aztec Rulers in Colonial Documents
Initial Conclusions and Direction of Future Research/Presentation>
List of Figures
Sources Cited
This report covers research undertaken on two separate segments of the same project. The first portion of the project addresses Pre-Hispanic images of indigenous rulers. The second portion addresses colonial period images of the same. With FAMSI's assistance I was able to spend two months consulting specific objects in European collections. The majority of these objects were in the Bibliothèque Nationale de France, Paris, and the Ethnologisches Museum, of the Staatliche Museen zu Berlin Preußischer Kulturbesitz (Museum Für Völkerkunde), in Berlin. In this report, I suggest that certain ceramic figurines, classed as Xipe figurines in the past, may actually be images of Aztec royals in their battle costume, and that colonial period artists still treated the images of nobles in the same manner as their Pre-Hispanic counterparts.
---
Click to download the report in PDF format:
Icons of Empire: Royal Presentation and the Conception of Rule in Aztec México (541 KB)
The PDF files require Adobe Acrobat Reader.
To download the latest version, click the Get Acrobat Reader button below.
Submitted 11/13/2002 by: