Veracruz Mural Traditions: Las Higueras, México
Vea este informe en Español.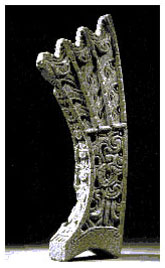 Research Year: 2001
Culture: Classic Veracruz
Chronology: Late Classic
Location: Veracruz, México
Site: Las Higueras
Table of Contents
Abstract
Resumen
Introduction
The Murals of Mound 1
Positioning Las Higueras Identity
List of Figures
Sources Cited
The documents created with the aid of the FAMSI research grant "Veracruz Mural Traditions: Las Higueras" constitute the central iconographic corpus of my dissertation in pre-Columbian art history at the University of Texas at Austin. The main objectives of the dissertation, The Murals of Las Higueras, Veracruz, México, are to: (1) document, identify and analyze the iconography used in the narrative programs portrayed on the murals of Mound 1 at Las Higueras (c. 600-900 CE); (2) consider these findings in a regional comparative analysis of Central Veracruz visual art; and (3) develop a methodology that allows a synchronic and diachronic study of the role that this culture region had in influencing the creation of visual art and ideology in Mesoamerica. This report summarizes the activities and initial research undertaken during the documentation of the surviving fragments of these murals currently located at the Xalapa Museum of Anthropology.
Los documentos producidos a partir del otorgamiento de la beca FAMSI, titulada "Tradiciones Murales de Veracruz: Las Higueras", constituyen el corpus iconográfico central de mi tesis en historia del arte precolombino para la Universidad de Texas en Austin. Los objetivos principales de la tesis Los Murales de Las Higueras, Veracruz, México, son: (1) documentar, identificar y analizar la iconografía utilizada en los programas narrativos representados en los murales de la Estructura 1 de Las Higueras (c. 600-900 d.C.); (2) estudiar estos hallazgos en el marco de un análisis comparativo regional de las artes visuales del área central de Veracruz, y (3) desarrollar una metodología que posibilite estudiar sincrónica y diacrónicamente el papel que jugó esta región cultural en la creación de arte visual y de ideología en Mesoamérica. Este informe resume las actividades y la investigación inicial emprendida durante la documentación de los fragmentos sobrevivientes de estos murales, que actualmente se conservan en el Museo de Antropología de Xalapa.
---
Click to download the report in PDF format:
Veracruz Mural Traditions: Las Higueras, México (723 KB)
The PDF files require Adobe Acrobat Reader.
To download the latest version, click the Get Acrobat Reader button below.

Submitted 10/15/2002 by: