Isla Agaltepec: Postclassic Occupation in the Tuxtla Mountains, Veracruz, México
Vea este informe en Español.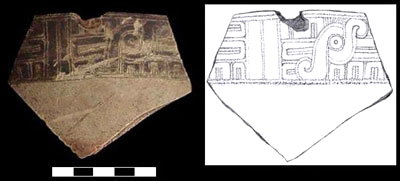 Research Year: 2002
Culture: Veracruz
Chronology: Post Classic
Location: Lake Catemaco, Sierra de los Tuxtlas, Veracruz, México
Site: Isla Agaltepec
Table of Contents
Abstract
Resumen
Overview
Fieldwork on Isla Agaltepec
Surface Survey and Artifact Analysis
Evidence from Looters' Trenches
Summary and Significance
Acknowledgments
List of Figures and Tables
Sources Cited
Preliminary archaeological fieldwork at Isla Agaltepec provides the first unambiguous evidence for Postclassic (A.D. 1000-1521) occupation within the Sierra de los Tuxtlas, Veracruz, México. The nature of this occupation has been the subject of some debate, especially given recent reconsiderations of the political geography of the Tochtepec province of the Triple Alliance (e.g., Esquivias 2002; Smith and Berdan 2003). Our research as Isla Agaltepec, located in Lake Catemaco, includes systematic surface survey and profiling of looters' trenches. This fieldwork reveals two probable periods of Postclassic occupation. The first, and earlier, presence is associated with an architectural complex (the Valenzuela Complex) whose configuration suggests a fortification. The latter use of the site is associated with a more humble residential occupation that apparently dates to the second half of the Postclassic Period.
El trabajo de campo arqueológico preliminar de la Isla Agaltepec proporciona la primera evidencia inequívoca sobre la ocupación del Período Posclásico (1000-1521 d.C.) en la Sierra de los Tuxtlas, Veracruz, México. La naturaleza de dicha ocupación ha sido el tema de mucha discusión, principalmente dadas las reconsideraciones recientes de la geografía política de la provincia de Tochtepec de la Triple Alianza (por ejemplo, Equivias 2002; Smith y Berdan 2003). Nuestros estudios en la Isla Agaltepec, ubicada en el Lago Catemaco, incluyen un estudio sistemático de la superficie y descripción de trincheras de saqueo. Este trabajo de campo revela dos probables fases de ocupación Posclásica. La primera, y más temprana presencia, está asociada con un complejo arquitectónico (el Complejo de Valenzuela) cuya configuración sugiere una fortificación. El último uso del sitio esta asociado con ocupaciones residenciales más humildes y que aparentemente datan de la segunda mitad del Período Posclásico.
---
Click to download the report in PDF format:
Isla Agaltepec: Postclassic Occupation in the Tuxtla Mountains, Veracruz, México (1.35 MB)
The PDF files require Adobe Acrobat Reader.
To download the latest version, click the Get Acrobat Reader button below.
Submitted 04/21/2003 by: