El Gigante Rock Shelter: Archaic Mesoamerica and Transitions to Settled Life
Vea este informe en Español.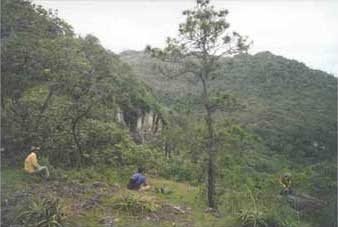 Research Year: 2001
Culture: Maya
Chronology: Pre-Classic
Location: Highlands of Southwestern Honduras
Site: El Gigante
Table of Contents
Abstract
Resumen
Introduction
The Site and Environment
Regional Surveys and Sondage Testing
Ethnographic Observations
Pictographs
Vegetation Surveys
Excavations at the Site of El Gigante
Stratigraphy and Chronology
Material Cultural Remains
Ceramics
Floral Material
Maize Macrofossils
Microfossil Studies
Faunal Material
Flaked Lithic Material
Other Lithic Material (ground stone)
Miscellaneous Material
Features
Disturbances
Discussion and Conclusion
Appendix I: Cueva El Salitre
Appendix II: Pre-human Site Formation and Geology
Appendix III: Notes on Archaeological Conservation
List of Figures
Sources Cited
The Mesoamerican prehistoric Archaic period is little studied. During this period (between 10,000 and 4,000 years ago) fundamental cultural adjustments were made to the varying physical environments of Mesoamerica. These set the stage for the florescence of complex societies of more recent periods.
The Proyecto El Gigante was targeted at the elaboration of the unknown cultural history of the Highlands of Southwestern Honduras. Extensive excavations were carried out in a rock shelter that contained very well preserved archaeological material, especially botanical remains.
Based on the initial analysis of the excavations, we have reached several conclusions. First, there is an undeniable Paleoindian component to the site that dates to 9220-8750 B.C. (2-sigma, calibrated date). Second, there is significant evidence of a generalized hunting and gathering pattern of behavior throughout the Archaic. The suite of plant remains recovered from these levels indicates a heavy reliance on tree fruits, maguey, and both large and small game. Third, the transition from this hunting and gathering mode of subsistence to one of farming apparently occurs very late as compared to other sites described for the period in México (e.g. Coxcatlán and Guila Naquitz). Maize is not adopted until perhaps the mid 1st millennium B.C. Once present, maize morphology exhibits a wide diversity and indicates either significant local manipulation of the crop or experimentation with many imported varieties.
The Proyecto El Gigante has completed the fieldwork phase. There is much laboratory analysis to be completed.
El período Arcaico en Mesoamérica es poco conocido. Durante dicho período (que va de los 10.000 a los 4.000 años atrás), se dieron ajustes culturales en los muy variados entornos físicos de Mesoamérica. Éstos fueron preparando el escenario para el florecimiento de las complejas sociedades de los períodos más recientes.
El Proyecto El Gigante tenía como meta elaborar la desconocida historia cultural de las tierras altas del sudoccidente de Honduras. Se han llevado a cabo extensas excavaciones en un refugio rocoso que contenía material arqueológico muy bien preservado, y en especial en lo que a restos botánicos se refiere.
En base a los análisis iniciales de las excavaciones, hemos llegado a varias conclusiones. En primer lugar, el sitio pone de manifiesto un incuestionable componente Paleoindio fechado para el 9220-8750 a.C. (2-sigma, calibrada). En segundo, hay importantes evidencias de un modelo de conducta generalizado de caza y recolección a lo largo de todo el Arcaico. El juego de restos de plantas que se recuperó en estos niveles indica una fuerte dependencia de los árboles frutales, del maguey, y de la caza de animales grandes y pequeños. En tercer lugar, la transición de este modelo de subsistencia de caza y recolección al modelo agrícola, aparentemente tuvo lugar muy tardíamente, en comparación con otros sitios que se han descrito para ese período en México (por ejemplo, Coaxcatlán y Guila Naquitz). El maíz no fue adoptado tal vez hasta mediados del 1er milenio a.C. Una vez presente, la morfología del maíz mostró una amplia diversidad e indicó, o bien una importante manipulación local de la siembra, o la experimentación con numerosas variedades importadas.
La fase de trabajo de campo del Proyecto El Gigante ya ha sido cumplimentada. Todavía quedan muchos análisis de laboratorio por realizar.
---
Click to download the report in PDF format:
El Gigante Rock Shelter: Archaic Mesoamerica and Transitions to Settled Life (548 KB)
The PDF files require Adobe Acrobat Reader.
To download the latest version, click the Get Acrobat Reader button below.
Submitted 07/03/2002 by:

The Pennsylvania State University
Department of Anthropology