The Temple 22 Façade Reconstruction Project, Copán, Honduras
Vea este informe en Español.
Images included in this report are copyrighted and
any use or reproduction would require author permission.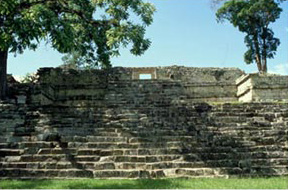 Research Year: 2001
Culture: Maya
Chronology: Classic
Location: Copán, Honduras
Site: Copán
Table of Contents
Abstract
Resumen
Introduction
Project Origins and Past Reconstructions
The 2001 Field Season Objectives
Project Results
Sculpture Database
Sculpture Conservation
Motif Analysis and Drawings
Sculpture Restoration
Preliminary Façade Reconstruction
Preliminary 3D Digital Reconstruction of Structure 10L-22
Construction Methods
Exterior views
Interior views
Advantages and Possibilities of a 3D Virtual Model
Facilities Improvements
Conclusion
Acknowledgements
Sources Cited
In 2001, the Temple 22 Reconstruction Project completed its third field season of analysis and reconstruction of the collapsed stone façade sculpture of an 8th century Maya temple at the UNESCO World Heritage site of Copán, in Western Honduras. Temple 22 (or Structure 10L-22) was commissioned by the 13th ruler of Copán–and famous patron of the arts–Waxaklajuun Ub'aah K'awiil, in A.D. 715. An elegant and complex work of stone carving and architectural composition, this building marks the beginning of a flourishing period of artistic creativity at Copán and its façades influenced the forms of Maya architecture for centuries to come. Since the late 19th century, archaeologists have excavated over 4,000 pieces of sculpture from around this building; the Temple 22 Reconstruction Project is the first to identify, catalogue, conserve, analyze, and restore the full sample of this sculpture. This project is conducted under the aegis of the Honduran Institute of Anthropology and History (IHAH) and the Copán Mosaics Project (CMP), co-directed by Barbara and William Fash of Harvard University.
In 2001, a grant from the Foundation for the Advancement of Mesoamerican Studies, Inc. (FAMSI) funded four months of sculpture analysis at the Regional Center for Archaeological Investigations at Copán (CRIA). This has resulted in an ongoing digital database of Structure 10L-22 sculpture, drawings of sculpture motifs, restoration and conservation of individual sculptures, and a preliminary three-dimensionally rendered, CAD reconstruction of the structure. Results this year confirmed the existence of a now-ruined second story, evidence for a sculpture workshop, and intriguing connections between the iconographic programs of Structure 10L-22 and Waxaklajuun Ub'aah K'awiil's stelae program in Copán's Great Plaza. Preliminary research identifies Structure 10L-22 as a distinct class of architecture, erected by contemporaneous Maya polities as they asserted their legitimacy in response to the volatile political landscape of the 8th century. Structure 10L-22 was a framework for the 13th ruler's display of legitimacy, and a locus for the construction of polity identity on historical, mythical, and cosmic levels. Additional funding from FAMSI and Columbia University allows this project research to continue in 2002.
En el 2001, el Proyecto de la Reconstrucción del Templo 22 (Temple 22 Reconstruction Project) completó su tercera estación de campo de análisis y reconstrucción de la piedra derrumbada de la escultura de la fachada de un templo Maya del siglo 8th en la UNESCO Herencia Mundial sitio de Copán, en el Oeste de Honduras. El Templo 22 (o Estructura 10L-22) fue comisionada por el gobernador 13th de Copán y famoso patrón del arte–Waxaklajuun Ub'aah K'awiil, en el 715 d.C. Un trabajo elegante y complejo de tallado de piedra y composición arquitectónica, este edificio marca el comienzo del florecimiento de un período de creatividad artística en Copán y sus fachadas influenciaron las formas de la arquitectura maya por siglos venideros. Desde el siglo 19 tardío, los arqueólogos han excavado más de 4,000 piezas de escultura alrededor de este edificio; el Proyecto de la Reconstrucción del Templo 22 es el primero para identificar, catalogar, conservar, analizar y restaurar el ejemplo completo de esta escultura. Este proyecto se dirigió bajo el amparo del Instituto Hondureño de Antropología e Historia (IHAH) y el Proyecto de Mosaicos de Copán (CMP, en Inglés), co-dirigido por Barbara y William Fash de la Universidad de Harvard.
La Fundación para el Avance de los Estudios Mesoamericanos, Inc. (FAMSI) en el 2001, financió una beca de cuatro meses de análisis de la escultura del Centro Regional de Investigaciones Arqueológicas (CRIA) en Copán. Esto ha resultado en una base de datos digital continuados de la escultura de la Estructura 10L-22, dibujos de los motivos de la escultura, restauración y conservación de las esculturas individuales, y un interpretación tridimensional preliminar, CAD (diseño asistido por computadora) reconstrucción de la estructura. Los resultados de este año confirmaron la existencia de un segundo piso ahora-aruinado, evidencias para un taller de trabajo de esculturas, y conexiones intrigantes entre los programas iconográficos de la Estructuras 10L-22 y el programa de la estela Waxaklajuun Ub'aah K'awiil en la Gran Plaza de Copán. La investigación preliminar identifica la Estructura 10L-22 como una clase distinta de arquitectura, erguida por un sistema de gobierno contemporáneo maya cuando ellos afirmaron su legitimidad en respuesta al escenario político volátil del siglo 8th. La Estructura 10L-22 fue un marco de trabajo para el despliegue de legitimidad del gobernador 13th, y un sitio para la construcción de una identidad política sobre niveles históricos, míticos y cósmicos. El fondo adicional de FAMSI y la Universidad de Columbia permite este proyecto de investigación para continuar en el 2002.
---
Click to download the report in PDF format:
The Temple 22 Façade Reconstruction Project, Copán, Honduras (1.10 MB)
The PDF files require Adobe Acrobat Reader.
To download the latest version, click the Get Acrobat Reader button below.
Submitted 03/12/2003 by:

Assistant Professor of Pre-Columbian Art and Architecture
Department of Art and Art History
University of New Mexico, Albuquerque