The Pomoná Kingdom and its Hinterland
Vea este informe en Español.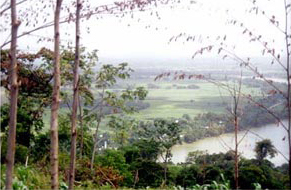 Research Year: 2001
Culture: Maya
Chronology: Late Classic
Location: Tabasco, México
Sites: Pomoná and Panhale
Table of Contents
Abstract
Resumen
Introduction
Previous Archaeological Research in the Region
Research Problem and General Objectives
Results of Fieldwork
Panhale
San Carlos Boca del Cerro
Chan Marín/Súchite
Rancho La Herradura
Km 7
Crisóforo Chiñas
El Faisán 2a Sección>
Javier Rojo Gómez
Preliminary Interpretation on the Settlement Pattern
List of Figures
Sources Cited
The archaeological site of Pomoná is located in the Tabasco coastal plains in the vicinity of the Usumacinta River. Although at times shadowed by the mighty kingdoms of Palenque to the east and Piedras Negras to the south, Pomoná nevertheless constituted the centre of an independent kingdom that comprised a constellation of subsidiary sites distributed along its hinterland. It's vicinity to the Usumacinta River, near the point where the river abandons the last limestone ridges to enter the coastal plain, constitutes a strategic position to control access to and fro the Upper to the Middle Usumacinta regions. Perhaps it is precisely due to this geographic location that the Pomoná kingdom was highly contested by the above-mentioned hegemonic powers of the time. I argue that the location and control of Pomoná's secondary centres was driven by motivations of what we would consider nowadays as matters of "national security". In this context the site of Panhale (a secondary, subsidiary site of Pomoná) and the territory that it controlled, represents the ideal case study to evaluate the relationship between site location and territorial integrity. The 2001 field season was aimed towards the recovery of the initial information that will assist us in the territorial definition of the Pomoná kingdom and its hinterland.
El sitio arqueológico de Pomoná esta ubicado en las planicies costeras de Tabasco en la cercanía del río Usumacinta. Aunque en ocasiones ensombrecido por los reinos poderosos de Palenque al este y al sur de Piedras Negras, no obstante Pomoná constituyó un vigoroso centro de un reino independiente conformado por una constelación de sitios subsidiarios distribuidos a lo largo de su región interior. Su proximidad al río Usumacinta, en las cercanías donde el río abandona las escarpadas colinas calizas para entrar a la planicie costera, hace de su ubicación un punto estratégico para el control de acesso de un lado a otro de las regiones superiores a las regiones de Usumacinta Medio. Es quizás, debido a su zona geográfica que el reino de Pomoná fue intensamente disputado en aquel tiempo por las potencias hegemónicas regionales arriba mencionadas. Argumento que la ubicación y control de los centros subsidiarios de Pomoná se manejaron por motivaciones de lo que nosotros consideramos hoy como asuntos de "seguridad nacional". En este contexto el sitio de Panhale (un sitio secundario, subsidiario de Pomoná) y el territorio que controló, representa el caso de estudio ideal para evaluar la relación entre la ubicación del sitio y la integridad territorial. Los trabajos de la temporada de campo del 2001, se orientaron hacía la recuperación de la información inicial necesaria que nos asistiría en la definición territorial del reino de Pomoná y su región interior.
---
Click to download the report in PDF format:
The Pomoná Kingdom and its Hinterland (1.69 MB)
The PDF files require Adobe Acrobat Reader.
To download the latest version, click the Get Acrobat Reader button below.
Submitted 06/04/2002 by: