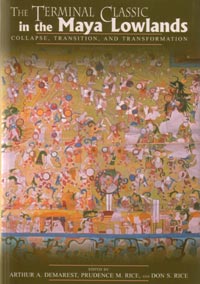 Research Year: 2001
Culture: Maya
Chronology: Terminal Classic
Location: Maya Lowland, Guatemala
Sites: Various
The Terminal Classic in the Maya Lowlands: Collapse, Transition, and Transformation
edited by Arthur A. Demarest, Prudence M. Rice, and Don S. Rice
Table of Contents
List of Figures
List of Tables
Editors' Preface
The Terminal Classic and the "Classic Maya Collapse" in Perspective
–

Prudence M. Rice, Arthur A. Demarest, and Don S. Rice
Hermeneutics, Transitions, and Transformations in Classic to Postclassic Maya Society
–

Diane Z. Chase and Arlen F. Chase
Terminal Classic Period Lowland Ceramics
–

Prudence M. Rice and Donald Forsyth
The Last Hurrah: Continuity and Transformation at Seibal
–

Gair Tourtellot and Jason J. González
Settlement and Late Classic Political Disintegration in the Petexbatún Region, Guatemala
–

Matt O'Mansky and Nicholas P. Dunning
After the Maelstrom: Collapse of the Classic Maya Kingdoms and the Terminal Classic in Western Petén
–

Arthur A. Demarest
Late Classic to Postclassic Transformations in the Petén Lakes Region, Guatemala
–

Prudence M. Rice and Don S. Rice
Disaster in Sight: The Terminal Classic at Tikal and Uaxactún
–

Juan Antonio Valdés and Federico Fahsen
Defining the Terminal Classic at Calakmul, Campeche
–

Geoffrey E. Braswell, Joel D. Gunn, María del Rosario Domínguez Carrasco, William J. Folan, Laraine A. Fletcher, Abel Morales López, and Michael D. Glascock
Terminal Classic Settlement and Polity in the Mopán Valley, Petén, Guatemala
–

Juan Pedro Laporte
Dating Copán Culture-History: Implications for the Terminal Classic and the Collapse
–

David Webster, AnnCorinne Freter, and Rebecca Storey
Political Decentralization, Dynastic Collapse, and the Early Postclassic in the Urban Center of Copán, Honduras
–

William L. Fash, E. Wyllys Andrews, and T. Kam Manahan
Out with a Whimper: La Milpa in the Terminal Classic
–

Norman Hammond and Gair Tourtellot
Commoner Sense: Late and Terminal Classic Social Strategies in the Xunantunich Area
–

Wendy Ashmore, Jason Yaeger, and Cynthia Robin
Transformations, Periodicity, and Urban Development in the Three Rivers Region
–

R.E.W. Adams, H.R. Robichaux, Fred Valdez Jr., Brett A.Houk, and Ruth Mathews
Terminal Classic Status-Linked Ceramics and the Maya "Collapse": De Facto Refuse at Caracol, Belize
–

Arlen F. Chase and Diane Z. Chase
Ceramics and Settlement Patterns at Terminal Classic-Period Lagoon Sites in Northeastern Belize
–

Marilyn A. Masson and Shirley Boteler Mock
Out of Sight: The Postclassic and Early Colonial Periods at Chau Hiix, Belize
–

Christopher R. Andres and K. Anne Pyburn
High Times in the Hill Country: A Perspective from the Terminal Classic Puuc Region
–

Kelli Carmean, Nicholas Dunning, and Jeff Karl Kowalski
The Rise and Fall of Terminal Classic Yaxuna, Yucatán, Mexico
–

Charles Suhler, Traci Ardren, David Freidel, and Dave Johnstone
The Decline of the East: The Classic to Postclassic Transition at Ek Balam, Yucatán
–

William M. Ringle, George J. Bey III, Tara Bond Freeman, Craig A. Hanson, Charles W. Houck, and J. Gregory Smith
Chichén Itzá: Settlement and Hegemony During the Terminal Classic Period
–

Rafael Cobos Palma
The Terminal Classic in the Maya Lowlands: Assessing Collapses, Terminations, and Transformations
–

Arthur A. Demarest, Prudence M. Rice, and Don S. Rice
References
Contributors
Index
Introduction
The Terminal Classic and the "Classic Maya Collapse" in Perspective
Perspectives on the End of the Classic Period
Transitions, Transformations, and Collapses in the Terminal Classic:
The Chapters in this Volume
Results and Prospects
FAMSI contributed funding toward the illustrations for this volume.
Publication available from the University Press of Colorado © 2004
5589 Arapahoe Avenue, Suite 206C
Boulder, Colorado 80303
ISBN 0-87081-739-6
---
El clic para descargue el informe en el formato de PDF:
Publication: The Terminal Classic in the Maya Lowlands: Collapse, Transition, and Transformation (81 KB)
Los archivos PDF requieren el Adobe Acrobat Reader.
Para descargar la versión más reciente, haga un clic en el botón Acrobat Reader, abajo.
Submitted 11/01/2003 by: