Nahua Blood Sacrifice and Pilgrimage to the Sacred Mountain Postectli, June, 2001
Vea este informe en Español.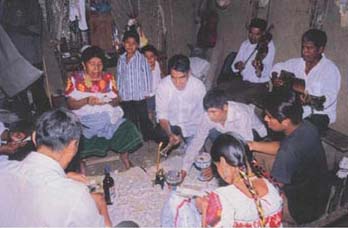 Research Year: 2001
Culture: Nahua
Chronology: Pre-Columbian and Contemporary
Location: Huasteca, México
Site: Postectli
I want to begin by thanking FAMSI Board members, and FAMSI Advisory Board members for supporting this research effort. Without funds provided by FAMSI we would not have been able to go to the field. As you will see, the financial assistance allowed us to document for the first time a remarkable ritual pilgrimage and blood sacrifice firmly rooted in the pre-Hispanic era. I am extremely grateful to FAMSI for providing necessary funds on such short notice and I will certainly work to disseminate through publications and public presentations the ethnographic information that we gathered during the grant period.
We learned that we had FAMSI support for this emergency research project late in the afternoon on June 6, and we left for the field on June 10, 2001. The original grant was to support me and my wife Pamela for a 13-day stay in México to document and gather ethnographic data on the rare and unusual ritual event. In the two days we had for planning, we learned that our 18-year-old son Michael, who has accompanied us to the field since he was three years old, would be available to join us and we decided to give him responsibility for photographing the event. This freed Pamela and me to conduct interviews, take detailed notes, and keep track of significant episodes in the ritual, many of which occurred simultaneously. We used our own funds to pay for Michael. In order to save money on flights we traveled by car to Atlanta, Georgia and flew to México from there. This strategy saved enough money to make up the difference between what we budgeted for and the actual amount of the Contingency Grant.
We arrived in México, D.F. on the morning of June 11 and were met at the airport by Jesús Ruvalcaba Mercado, a senior researcher at the Centro de Investigaciones y Estudios Superiores en Antropología Social (CIESAS). I had e-mailed him that we were arriving and offered to have him accompany us to the field so that he could witness the pilgrimage and offering. We met for about two hours and learned that he was to leave the country on the next day and would not be able to join us. He was enthused about the project and encouraged us to continue our efforts to document cultural practices in the Huasteca region, one of the most indigenous and yet poorly understood areas in Mesoamerica. He is director of a multi-year research effort by CIESAS to send student fieldworkers to the Huasteca to gather information on the cultures of the region. Significant advances in documentation have resulted from this long-term, coordinated research effort. I am happy to report that my sustained fieldwork in this region spanning more than thirty years has been part of the impetus for this welcome endeavor.
We then picked up our rental car and departed for northern Veracruz, the site of our long-term research among Nahuas (Náhuatl speakers). We headed for the Sierra Madre Oriental and stopped in Xicotepec de Juárez in the Sierra Norte de Puebla for the night. On June 12 we traveled to Tuxpan, Veracruz, to purchase gifts and necessary supplies of food to take into the remote community where the ritual was to be held. I have conducted ethnographic research since 1970 in the Nahua community of Puyecaco, located in the municipio of Ixhuatlán de Madero northern Veracruz. The community has about 600 inhabitants who live through slash-and-burn horticulture. I have committed myself to long-term research in the village as a way of overcoming the notoriously closed nature of indigenous villages in the region (and in Mesoamerica as a whole). I have found that it takes years of residence before outsiders are permitted to witness and participate in aspects of Nahua life. As I mentioned in the memorandum of application, despite its importance to Nahua religious practices, we were first permitted to witness the pilgrimage and sacrifice only in 1998. Given the complexity of events and the symbolic richness of the altars, chanting, ritual music, sacred sites visited, and offerings dedicated we were able to document only a small part of the occasion at that time. Villagers actually contacted us through intermediaries to join them in the events of this June. It is our hope that the observations we made will lead to a new understanding of contemporary indigenous and pre-Hispanic religious beliefs and practices.
---
Click to download the report in PDF format:
Nahua Blood Sacrifice and Pilgrimage to the Sacred Mountain Postectli, June, 2001 (766 KB)
The PDF files require Adobe Acrobat Reader.
To download the latest version, click the Get Acrobat Reader button below.
Submitted 08/07/2001 by: