Household Intensification in the Mixtec Cacicazgo: Excavation of a House and Terraced Fields
Vea este informe en Español.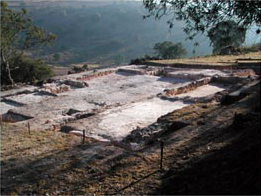 Research Year: 2002
Culture: Mixtec
Chronology: Post Classic
Location: San Juan Teposcolula, Oaxaca, México
Site: Nicayuhu
Table of Contents
Abstract
Resumen
Introduction
Project Goals
Research Design and Methods
Preliminary results
Conclusion
List of Figures
Sources Cited
"Household Intensification in the Mixtec Cacicazgo: Excavation of a House and Terraced Fields" is a FAMSI sponsored research project that combines archaeology, ethnohistory, and ethnography to learn about the Postclassic Mixtec commoner class—the terrace farmers. The project followed a program of mapping, surface collecting, extensive excavation of two Postclassic Mixtec commoner houses and test excavations at a lama-bordo terrace and twenty agricultural contour terraces at the terraced hill-town of Nicayuhu in San Juan Teposcolula, Oaxaca. The project is currently in the analysis phase. The preliminary results of this study suggest that food-producing commoner households may have independently built and managed agricultural terraces supporting the thesis that Netting's (1993) agrarian smallholder pattern characterizes the socio-economic organization of Mixtec agricultural intensification and the commoner household's role in society. This study has generated important and until recently unavailable data on agricultural terrace construction and on the lifeways of Prehispanic terrace farmers.
"Intensificación agrícola en el nivel de las unidades domésticas en un cacicazgo mixteco: excavación de una casa y una terraza agrícola", es un proyecto de investigación auspiciado por FAMSI, el cual combina arqueología, etnohistoria y etnografía para estudiar a la clase comunera mixteca durante la época posclásica—los campesinos de las terrazas agrícolas. La metodología del proyecto consistió en hacer un mapa, recolecciones de superficie, excavaciones intensivas de dos casas comuneras posclásicas y sondeos en una terraza lama-bordo y veinte terrazas agrícolas de contorno en el cerro de Nicayuhu en San Juan Teposcolula, Oaxaca. Estoy ahora en la fase de análisis, pero los resultados preliminares indican que las unidades domésticas de productores agrícolas comuneros pudieron haber construido y manejado independientemente las terrazas agrícolas, lo cual sugiere que el modelo del pequeño agricultor de Netting (1993) caracteriza la organización socioeconómica de la intensificación agrícola mixteca y el papel que los comuneros tuvieron en la sociedad. Este estudio ha generado información importante y hasta la fecha inexistente sobre la construcción de las terrazas agrícolas y el modo de vida de los campesinos prehispánicos que trabajaron estas terrazas.
---
Click to download the report in PDF format:
Household Intensification in the Mixtec Cacicazgo: Excavation of a House and Terraced Fields (388 KB)
The PDF files require Adobe Acrobat Reader.
To download the latest version, click the Get Acrobat Reader button below.
Submitted 02/28/2003 by: