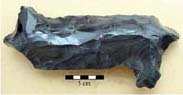 Research Year: 2002
Culture: Aztec
Chronology: Epi-Classic
Location: State of Morelos, México
Site: Xochicalco
Table of Contents
Abstract
Resumen
Introduction
The Assemblage
Discussion
Conclusion
Acknowledgements
List of Figures
Sources Cited
This project examined the flaked stone artifacts from the elite zone of Xochicalco to explore (1) whether stone tools were produced in elite contexts, and if so, (2) what kinds of items were produced and (3) what does this tell us about the structure of Xochicalco's stone tool craft economy? The technological analysis of these artifacts did not indicate that they were made in the elite zone. To the contrary, most of the artifacts in the collection were probably made in Xochicalco's commoner core-blade workshops. It is most likely that the elites acquired these items, predominantly for domestic uses, in the central market or via tribute arrangements. Consequently, Xochicalco's stone tool economy was primarily oriented towards the production of utilitarian tools in workshops relatively independent of elite control. The size and character of the elite collection also supports earlier conclusions that obsidian was a scarce resource at the site. This may be why the elites did not invest in the production of non-utilitarian implements related to ritual or social status. In sum, the craft production of stone tools does not appear to have been an important component of the elite political economy at Epiclassic Xochicalco.
Este proyecto analizó los artefactos de piedra lasqueada de la zona de la élite de Xochicalco para investigar (1) si se fabricaron herramientas de piedra en contextos de la élite, y si fue así, (2) qué tipo de herramientas se fabricaron y (3) qué nos dice esto acerca de la estructura de la economía artesanal de las herramientas de piedra en Xochicalco? El análisis tecnológico de estos artefactos no indicó que fueron hechos en la zona de la élite. Por el contrario, la mayoría de los artefactos en la colección se hicieron probablemente en los talleres plebeyos de núcleos poliédricos de Xochicalco. Es muy probable que la élite adquiriera estos artículos, predominantemente para usos domésticos, en el mercado central o por vía de arreglos tributarios. Por consiguiente, la economía de herramientas de piedra en Xochicalco se orientó primordialmente hacia la producción de herramientas utilitarias en talleres relativamente independientes del control de la élite. El tamaño y carácter de la colección de la élite también confirma las conclusiones anteriores de que la obsidiana era un recurso escaso en el sitio. Esto puede explicar el por qué las élites no invirtieron en la producción de utensilios no-utilitarios relacionados a usos rituales o estatus social. En resumen, la producción artesanal de herramientas de piedra no parece haber sido un componente importante en la economía política de la élite del Epiclásico de Xochicalco.
---
Click to download the report in PDF format:
Stone Tools and the Elite Political Economy at Epiclassic (A.D. 650-900) Xochicalco (390 KB)
The PDF files require Adobe Acrobat Reader.
To download the latest version, click the Get Acrobat Reader button below.
Submitted 11/24/2002 by:

Department of Anthropology
The Pennsylvania State University