El Mapa de Teozacoalco: An Early Colonial Guide to Cultural Transformations
Vea este informe en Español.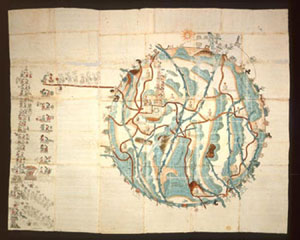 Research Year: 2002
Culture: Mixtec
Chronology: Early Colonial
Location: Oaxaca, México
Site: San Pedro Teozacoalco
Table of Contents
Abstract
Resumen
Final Report
Table 1. Descriptions of Sites Found in 2000 and 2002
List of Figures
Sources Cited
Using El Mapa de Teozacoalco, an early Colonial map and genealogy, as a guide, archaeological settlement pattern survey in 2002 continued and expanded fieldwork begun in 2000 in a 30 x 70 km mountainous area inhabited by the Mixtec people around San Pedro Teozacoalco, Oaxaca, México. The project is addressing interrelated issues: association of Mixtec and Spanish place names on El Mapa with archaeological sites, natural features, and extant settlements and the testing of postulated continuities and discontinuities between settlements during different time periods. The project is producing data on changes in settlement characteristics that accompanied major cultural transformations in Mesoamerica.
Guiado por El Mapa de Teozacoalco, un mapa colonial antiguo, el estudio arqueológico durante el año 2002, continuo y expandió el trabajo de campo empezado en el año 2000 en un área montañosa de 30 km. por 70 km. cerca del pueblo de San Pedro Teozacoalco en la Mixteca Alta, Oaxaca, México. El proyecto está estudiando cuestiones interrelacionadas: la asociación de nombres de lugares mixtecas y españoles en El Mapa con sitios arqueológicos, los rasgos característicos naturales y los poblados existentes y el probar de continuidades y discontinuidades postuladas entre los poblados del período diferentes. El proyecto está produciendo información relacionada a transformaciones principales en la ancestral sociedad mesoamericana.
---
Click to download the report in PDF format:
El Mapa de Teozacoalco: An Early Colonial Guide to Cultural Transformations (592 KB)
The PDF files require Adobe Acrobat Reader.
To download the latest version, click the Get Acrobat Reader button below.
Submitted 04/21/2003 by:

Museum of Anthropology
Wake Forest University