The Growth of Piedras Negras, Guatemala
Vea este informe en Español.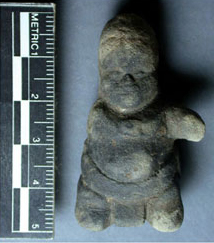 Research Year: 2002
Culture: Maya
Chronology: Late Classic
Location: Northeast Guatemala
Site: Piedras Negras
Table of Contents
Summary
Sumario
Introduction and Background
Chronology: History of Piedras Negras
Household Growth Mimics the Center's Growth
Interhousehold Differences
Lithics
Figurines
Conclusions
Acknowledgments
List of Figures
Sources Cited
This project examines the growth and development of Piedras Negras, Guatemala through its residential groups. This center developed from a small village to a primary political center in a sudden Late Classic growth spurt. The development of the polity is paralleled by its residences. Two residential patio groups in the U sector developed along similar trajectories but with clear economic differences. These differences reflect the heterogeneity in the center in terms of artifact distribution.
Este proyecto tiene como objeto el estudio del crecimiento y desarrollo de Piedras Negras, Guatemala, a través de sus grupos residenciales. Este centro pasó de ser una pequeña aldea a un centro político de primer orden, en un rápido e intenso esfuerzo de crecimiento que se dio durante el Clásico Tardío. El desarrollo del centro corre paralelo al de sus residencias. Dos grupos residenciales de patios en el sector U se desarrollaron siguiendo una trayectoria similar, aunque con diferencias económicas muy evidentes. Dichas referencias reflejan la heterogeneidad del centro en términos de la distribución de sus artefactos.
---
Click to download the report in PDF format:
The Growth of Piedras Negras, Guatemala (278 KB)
The PDF files require Adobe Acrobat Reader.
To download the latest version, click the Get Acrobat Reader button below.
Submitted 03/14/2003 by: