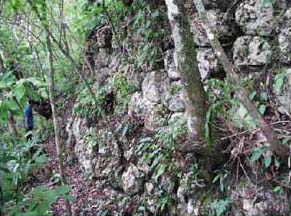 Research Year: 2002
Culture: Maya
Chronology: Classic
Location: Tabasco, México
Sites: Santa Rosa, Redención del Campesino, Ignacio Allende, Francisco Villa, Álvaro Obregón
Table of Contents
Abstract
Resumen
Introduction
Research Aims
Research Strategies and Methodology
Landscape and Political Geography
Dempster-Shafer Theory and Site Prediction Modeling
Results of Fieldwork
Ejido Santa Rosa
Ejido Redención del Campesino>
Ejido Ignacio Allende
Ejido Francisco Villa
Ejido Álvaro Obregón
Sites Outside the Valley
Site Hierarchy in the Redención del Campesino Valley
Conclusions
List of Figures
List of Plates
Sources Cited
During the 2001 field season of The Pomoná Kingdom and its Hinterland Archaeological Project my colleagues and I attended a report on the existence of a wooden box in the community of Álvaro Obregón, Tenosique, Tabasco that contained hieroglyphic inscriptions. The decipherment of these inscriptions suggested that at one point during the Late Classic Period the Valley of Redención del Campesino may had been under the aegis of Piedras Negras, a regional capital located about 30 km to the south of the valley. The main working hypotheses of this project is that control of the secondary sites located at points on the landscape constituted a constant preoccupation to the Maya kings of the region. Considering that the valley itself contains a natural pass through the sierra that represents an important access to the coastal plains, such passage must have been controlled from within the valley. Through the application of Geographic Information Systems (GIS) a model was designed that would assist us in identifying the areas where the likelihood of finding a site of such relevance would be high. The subsequent archaeological surveys carried out were geared towards the evaluation of this model and represent the first phase of the research project.
Durante la temporada de campo 2001 del Proyecto Arqueológico Panhalé Reino de Pomoná, se atendió al reporte de la existencia de una cajita de madera con inscripciones jeroglíficas que se hallaba resguardada en la comunidad de Álvaro Obregón, Municipio de Tenosique, Tabasco. Las inscripciones nos sugieren que en algún momento del Clásico Tardío, el valle de Redención del Campesino pudo haber estado bajo el control político de Piedras Negras, localizada aproximadamente 30 km hacia el sur. Una de las premisas de este proyecto de investigación es que la ubicación estratégica de los centros subsidiarios de Pomoná y Piedras Negras fue de vital importancia para los gobernantes de estos reinos. Puesto que este valle tiene acceso a la planicie costera a través de un paso natural en la sierra, el control de esta vía de acceso debió ejercerse desde un sitio que debió estar estratégicamente situado en el interior del mismo. En este sentido, a través de la aplicación de los Sistemas de Información Geográficos (SIG) (Geographic Information Systems - GIS), se diseñó un modelo de predicción que nos fuera de ayuda en la localización de las áreas sensibles a la presencia de este tipo de sitios. El trabajo de campo estuvo orientado hacia la evaluación de dicho modelo, y representa la primera fase del proyecto de investigación.
---
Click to download the report in PDF format:
The Redención del Campesino Valley Archaeological Survey (2.14 MB)
The PDF files require Adobe Acrobat Reader.
To download the latest version, click the Get Acrobat Reader button below.
Submitted 01/14/2005 by: