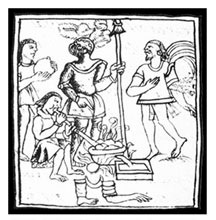 Research Year: 2003
Culture: Tarascan
Chronology: Late Post Classic
Location: Michoacán, México
Site: Itziparátzico
Table of Contents
Abstract
Resumen
Introduction
Project Background and Goals
Fieldwork
Surface Survey
Excavations
Laboratory Analysis
Comments
Acknowledgements
List of Figures
Sources Cited
Mesoamerican copper metallurgy emerged in West México sometime between A.D. 600-800. Over a period of approximately 900 years, a wide variety of artifacts, typically decorations and other valuable non-utilitarian goods were produced. By 1450 A.D., the Tarascan kingdom in the state of Michoacán had become the most important center of Prehispanic metalworking. Metallurgy played a significant role in the structure of political and economic power in the Tarascan Empire. Metal adornments used as an insignia of social status and public ritual became even more associated with political power. While metal was used for an array of goods, virtually nothing is known about the manufacture and the organization of production of this craft. This report summarizes the results of the FAMSI-funded Proyecto Santa Clara 2004, which involved surface survey and excavations at the archaeological site of Itziparátzico, near the modern Tarascan community of Santa Clara del Cobre, where potential copper production areas were located and concentrations of manufacturing slag were recorded.
El Reino Tarasco de Michoacán representa sin lugar a dudas el centro más importante de producción metalúrgica de cobre durante el período Posclásico Tardío en Mesoamérica. Éste y otros metales, así como diversas aleaciones, eran usados para la elaboración de una gran variedad de bienes, en su mayoría no utilitarios. Pese a su importancia, se desconoce por completo el proceso de manufactura y la organización de la producción de esta artesanía. El presente reporte ofrece una breve sinopsis de los resultados del Proyecto Santa Clara 2004, financiado por FAMSI, el cual incluyó recorridos de superficie y excavaciones de sondeo en el sitio arqueológico de Itziparátzico, localizado en las inmediaciones de la moderna comunidad de Santa Clara del Cobre, Michoacán, en el Occidente de México. Santa Clara es el hogar de la última industria artesanal de cobre forjado a mano aún activa en México. La información provista por fuentes etnohistóricas y la presencia inequívoca de desechos de fundición en la superficie de la zona arqueológica, sirvieron como indicadores de que la producción contemporánea de objetos de metal (particularmente cobre) tuvo su origen en tradiciones prehispánicas. En base a esta información, los objetivos principales de esta investigación fueron, pues, establecer el contexto, la etapa, la escala y la cronología de la producción de cobre en esta región.
---
Click to download the report in PDF format:
Tarascan Copper Metallurgy at the Site of Itziparátzico, Michoacán, México (1.20 MB)
The PDF files require Adobe Acrobat Reader.
To download the latest version, click the Get Acrobat Reader button below.
Submitted 10/15/2004 by:

Department of Anthropology
Pennsylvania State University