Ritual Ceramic Use in the Early and Middle Preclassic at the sites of Blackman Eddy and Cahal Pech, Belize
Vea este informe en Español.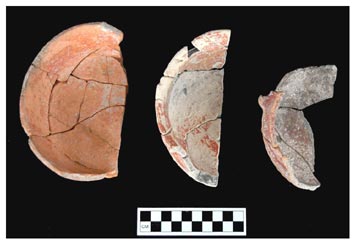 Research Year: 2003
Culture: Maya
Chronology: Early and Middle Preclassic
Location: Belize
Sites: Blackman Eddy and Cahal Pech
Table of Contents
Abstract
Resumen
The Final Report
List of Figures and Tables
Sources Cited
The analysis of two distinct ceramic assemblages from Cahal Pech and Blackman Eddy sheds light on the ritual use of ceramics by the Preclassic Maya and has implications for the rise of complexity. A subset of the earliest ceramics found within the Maya Lowlands (Cunil/Kanocha Complexes) was incised with ideologically related symbols that were part of the greater pan-Mesoamerican symbol system. The incised motifs were found on serving vessels which suggests that the display of these symbols was meant to be seen by participants in communal gatherings such as ritual feasts. The emphasis on the display of these early symbolic motifs diminishes towards the end of the Cunil/Kanocha Phase which corresponds with some of the earliest signs of social differences in the archaeological record. This trend may suggest that hierarchical social relations were becoming naturalized within Maya ideology and no longer needed to be emphasized through symbolic motifs carved on ritual ceramic vessels. Through time and repeated use within special ceremonies, the function of the ritual vessel itself changes from container/medium of display to vehicle/implement of power. These instruments of power were integral in rituals used by elites during the Middle Preclassic and later to reinforce and legitimize uneven social relationships. This is seen through the importance of ceramic vessels within dedicatory caches and burials throughout the history of the Maya.
El análisis de dos conjuntos de material cerámico procedentes de los sitios de Cahal Pech y Blackman Eddy, Belice, ha proporcionado nuevos datos relevantes sobre la utilización ritual de vasijas cerámicas por parte de los mayas del Preclásico, contribuyendo así a nuestro entendimiento de la evolución de la complejidad social en la civilización maya. Un subconjunto de los complejos cerámicos más antiguos de las tierras bajas mayas (los complejos Cunil y Kanocha) se distingue por la presencia de diseños incisos en el engobe que representan símbolos ideológicos, los cuales forman parte del sistema Preclásica de símbolos pan-mesoamericanos. Estos motivos se encuentran en vasijas cuya función era la de presentar y servir comida, hecho que sugiere que dichos símbolos se hicieron para aquellos que participaban en la realización de reuniones públicas como los banquetes festivos y rituales. El uso de estos símbolos disminuye significativamente hacia el fin de las fases Cunil y Kanocha, al mismo tiempo que surgen las primeras evidencias arqueológicas de diferenciación social, correspondencia que sugiere que las relaciones sociales de jerarquía se estaban volviendo tan naturales que ya no requerían ser subrayadas por medio del uso de símbolos de poder grabados en vasijas rituales. Con el tiempo y por su uso continuo y repetido en contextos rituales, la función de estas vasijas cambió, y pasaron de ser recipientes y medios para la exhibición de símbolos, a vehículos sagrados e instrumentos de poder en sí mismos, los cuales jugaron un rol clave en los ritos que las élites del Preclásico Medio y de los períodos siguientes celebraban a fin de reforzar y legitimar relaciones sociales de desigualdad, hecho que se confirma por la importancia que tuvieron las vasijas cerámicas en los depósitos dedicatorios y los entierros a lo largo de la historia precolombina de la civilización maya.
---
Click to download the report in PDF format:
Ritual Ceramic Use in the Early and Middle Preclassic at the sites of Blackman Eddy and Cahal Pech, Belize (1.17 MB)
The PDF files require Adobe Acrobat Reader.
To download the latest version, click the Get Acrobat Reader button below.

Submitted 08/03/2007 by:

Assistant Professor
Department of Anthropology
University of Texas at Arlington