Changes and Continuities in Ritual Practice at Chechem Ha Cave, Belize: Report on Excavations Conducted in the 2003 Field Season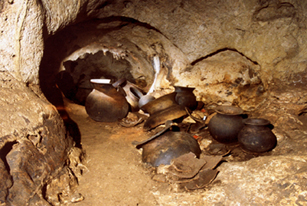 Research Year: 2003
Culture: Maya
Chronology: Middle Pre-Classic to Terminal Classic
Location: Belize
Site: Chechem Ha Cave
Table of Contents
Abstract
Resumen
Introduction
Setting
Methods
Excavation
Table 1. Summary of excavation data by level
Preliminary Analyses
Ritual Use Over Time
Conclusion
Acknowledgements
List of Figures
List of Tables
Sources Cited
Appendix A

Chechem Ha Cave in western Belize is the earliest radiocarbon dated ritual cave in the Maya Lowlands. The site was used by the ancient Maya from as early as 1300 BC to as late as AD 960. Excavations conducted in Chamber 2 during the 2003 field season provided a rare opportunity to examine deep sub-floor deposits in a ritual context. These data are significant in establishing that changes in ritual practice took place in the cave over its long period of use. Changes in practice are demonstrated by analyzing mapped charcoal distributions from excavated levels and by tracking the intensity of use from the number of charcoal flecks found on dated use-surfaces. These data demonstrate that Chamber 2 was heavily used during two distinctive phases- the Middle Preclassic period and later from the Terminal Preclassic to the end of the Early Classic period. Late Classic cave use is best represented by the ceramic assemblage suggesting that the deposition of votive offerings became an important focus of Late Classic ritual. By defining these changes in practice it will be possible to articulate ritual transformations with broader socio/political and environmental contexts.
La cueva de Chechem Ha, ubicada en oeste de Belice, es la cueva ritual con la datación más temprana de las tierras bajas mayas. Fue utilizada por los antiguos mayas ya desde el 1300 A.C. y hasta el 960 D.C. Las excavaciones realizadas en la Cámara 2 durante el año 2003 proporcionaron la inusual oportunidad de examinar los depósitos subyacentes del contexto ritual. Los datos recogidos han permitido establecer cambios en las prácticas rituales en la misma cueva a los largo del período en que fue utilizada. Los cambios surgen del análisis de las distribuciones del carbón en los niveles excavados y de la intensidad de uso evidenciada en las diferentes manchas del carbón de las superficies datadas. Estos datos demuestran que la Cámara 2 se usó intensamente durante dos fases distintas; primero el Período Preclásico Medio y luego desde el Preclásico Final hasta el fin del Período Clásico Temprano. El uso de la cueva durante el Período Clásico Final está mejor representado por los conjuntos de cerámica que sugieren que las ofrendas votivas se volvieron importantes en los rituales. Definiendo estos cambios en las prácticas será posible articular las transformaciones rituales con situaciones socio-políticas y medioambientales más amplias.
---
Click to download the report in PDF format:
Changes and Continuities in Ritual Practice at Chechem Ha Cave, Belize (4.49 MB)
The PDF files require Adobe Acrobat Reader.
To download the latest version, click the Get Acrobat Reader button below.

Submitted 08/11/2007 by:

Wichita State University