Edwin M. Shook Archival Collection, Guatemala City, Guatemala
Vea este informe en Español.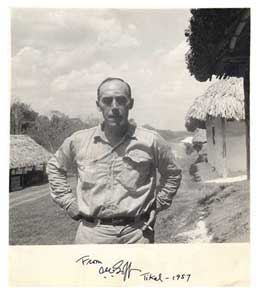 Research Year: 2003
Culture: Maya
Chronology: Pre-Classic to Post Classic
Location: Various archaeological sites in Guatemala and México
Site: Tikal, Uaxactún, Copán, Mayapán, Kaminaljuyú, Piedras Negras, Palenque, Ceibal, Chichén Itzá, Dos Pilas
Table of Contents
Abstract
Resumen
Background
Project Priorities
Conservation Issues
Guide to the Edwin M. Shook Archive
Site Records (Click to search Site Records)
Field Notes (Click to search Field Notes)
Photographs (Click to search Photographs)
Correspondence and Documents (Click to search Correspondence and Documents)
Illustrations (Click to search Illustrations)
Maps (Click to search Maps)
Future Work
Acknowledgments
List of Figures
Sources Cited
The Edwin M. Shook archive is a collection of documents that resulted from Dr. Edwin M. Shook's archaeological fieldwork in Mesoamerica from 1934-1998. He came to Guatemala as part of the Carnegie Institution and carried out investigations at various sites including Tikal, Uaxactún, Copán, Mayapán, among many others. He further established his residence in Guatemala where he continued an active role in archaeology. The archive donated by Dr. Shook to Universidad del Valle de Guatemala in 1998 contains his field notes, Guatemala archaeological site records, photographs, documents, and illustrations. They were stored at the Department of Archaeology for several years until we obtained FAMSI's support to start the conservation and protection of the archive. Basic conservation techniques were implemented to protect the archive from further damage. This report lists several sets of materials prepared by Dr. Shook throughout his fieldwork experience. Through these data sets, people interested in Shook's work can know what materials are available for study at the Universidad del Valle de Guatemala.
El archivo Edwin M. Shook consiste en una colección de documentos que resultaron de las investigaciones arqueológicas en Mesoamérica realizadas por el Dr. Shook entre 1934 y 1998. El Dr. Shook llegó a Guatemala como parte del equipo de investigadores de la Institución Carnegie y llevó a cabo investigaciones en varios sitios incluyendo Tikal, Uaxactún, Copán, Mayapán, entre muchos otros. Posteriormente estableció su residencia en Guatemala donde continuó con un papel muy activo en arqueología. El archivo contiene sus notas de campo, el registro de sitios arqueológicos de Guatemala, fotografías, documentos, ilustraciones y mapas. Este fue donado por el Dr. Shook a la Universidad del Valle de Guatemala en 1998. El mismo se encuentra en el Departamento de Arqueología de esta universidad donde había sido depositado desde esa época. Sin embargo, no fue sino hasta que se obtuvo el apoyo financiero de FAMSI que fue posible empezar con el proceso básico de conservación y protección del archivo. Se implementaron técnicas básicas de conservación para proteger al archivo de daños futuros. Este reporte lista varios conjuntos de datos separados que cubren los contenidos del archivo Edwin M. Shook. Estas listas contienen información para los investigadores interesados. Esto proporcionará información para todos aquellos que quieran físicamente consultarlo en el Departamento de Arqueología de la Universidad del Valle de Guatemala. La información del archivo de sitios se encuentra completamente disponible en la base de datos que lleva ese nombre.
---
Click to download the report in PDF format:
Edwin M. Shook Archival Collection, Guatemala City, Guatemala (1.54 MB)
The PDF files require Adobe Acrobat Reader.
To download the latest version, click the Get Acrobat Reader button below.
Submitted 03/24/2004 by: