The End of Pre-Columbian Pipil Civilization, Ciudad Vieja, El Salvador
With contributions by: Jeb J. Card, Department of Anthropology, Tulane University
Vea este informe en Español.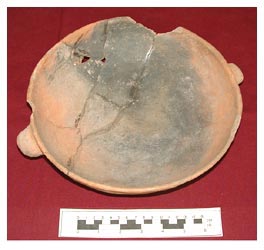 Research Year: 2003
Culture: Pipil and Central Mexican Nahua
Chronology: Late Post Classic/Conquest
Location: Department of Cuscatlán, El Salvador
Site: Ciudad Vieja
Table of Contents
Abstract
Resumen
Introduction
Location, Setting, Context
Excavations and Architecture
The Ceramics of Ciudad Vieja
Overview
Methodology
Preliminary Group and Type Descriptions
Sampling
Late Postclassic/Conquest Component
Early Postclassic Component
Late or Postcolonial Component
Type Classification: Discussion
Spanish Pottery at Ciudad Vieja
Olive Jars
Majolica
Locally Produced Hybrid Plates: An In-Depth Analysis of Ciudad Vieja Colono Ware
Methodology
Form
Decoration
Technology
Implications for Indigenous Occupation of San Salvador and Sixteenth-Century
Culture Change
The Chipped Stone Industry
Methodological and Theoretical Considerations
Procedure
The Collection
Typology
Discussion
List of Figures
Sources Cited
The villa of San Salvador, founded in 1525 and refounded in 1528 as a Spanish conquest city, had a resident indigenous (mostly Pipil as well as Tlaxcaltec and other central Mexican Nahua) population that was perhaps twenty times greater in number than its Spanish population. Abandoned in 1545, its 17-year occupation spans the crucial years of the Conquest period in Central America. The well-preserved ruins of this town, known today as the site of Ciudad Vieja, afford a rare opportunity for archaeological study of the dynamics of early Spanish-Indian culture contact. Archaeological research at the site emphasizes spatial study of the town, viewing it as a cultural landscape, emphasizing the mutual interaction of the different cultural groups that shared the terrain. Approximately two dozen Spanish cities were founded in Central America during the Conquest period. Very few of them have been investigated archaeologically, and Ciudad Vieja is unique among them for its exposure, preservation, and ease of access. Research in 2003 and 2004 included detailed analyses of the material culture of Ciudad Vieja. These analyses, conducted January 2003–August 2004, include formal, functional, and contextual analyses of ceramics and all artifact industries. Included here are detailed summaries of the results of the ceramic and obsidian investigations. Support from FAMSI enabled the project to complete these tasks, and the results represent an advance in our knowledge of late pre-Columbian and contact-period Pipil culture.
La villa de San Salvador, fundada en 1525 y vuelta a fundar en 1528 como una ciudad de conquista española, tenía una población indígena residente (principalmente pipil, así como tlaxcalteca y de otros grupos nahuas del centro de México) que era tal vez veinte veces más grande en cantidad que la población española. Abandonada en 1545, su ocupación de 17 años abarca los años cruciales del periodo de la Conquista en Centroamérica. Las bien preservadas ruinas de este pueblo, actualmente conocidas como Ciudad Vieja, nos dan una poco común oportunidad para estudiar arqueológicamente las dinámicas del contacto cultural temprano entre españoles e indios. La investigación arqueológica en este sitio enfatiza el estudio espacial del pueblo, viéndolo como un paisaje cultural, poniendo énfasis sobre la mutua interacción de los distintos grupos culturales que compartieron el terreno. Aproximadamente dos docenas de ciudades fueron fundadas por los españoles en Centroamérica durante el periodo de la Conquista. Muy pocas han sido investigadas arqueológicamente, y Ciudad Vieja es única entre ellas por su grado de exposición, de preservación y de fácil acceso. Las investigaciones en 2003–2004 incluyeron análisis detallados de la cultura material de Ciudad Vieja, conducidos entre enero de 2003 y agosto de 2004. Estos análisis consistieron en el estudio formal, funcional y contextual de las cerámicas y de todas las industrias de artefactos. Aquí se incluyen resúmenes detallados de los resultados de las investigaciones sobre cerámica y obsidiana. El apoyo de FAMSI permitió al proyecto completar estas tareas, y los resultados representan un avance en nuestro conocimiento de la cultura pipil de los periodos precolombino tardío y del contacto.
---
Click to download the report in PDF format:
The End of Pre-Columbian Pipil Civilization, Ciudad Vieja, El Salvador (1.85 MB)
The PDF files require Adobe Acrobat Reader.
To download the latest version, click the Get Acrobat Reader button below.
Submitted 09/11/2006 by:

Department of Anthropology
Vanderbilt University

(@Tulane) or (@Yahoo)
Department of Anthropology
Tulane University
New Orleans, LA 70118