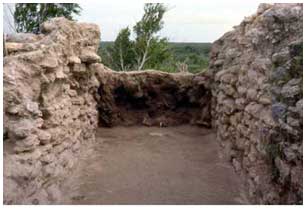 Research Year: 2004
Culture: Maya
Chronology: Pre-Classic
Location: Corozal Bay, Belize
Site: Cerros
Table of Contents
Abstract
Resumen
Introduction
Methodology
Results
Analysis
General Interpretation of Chronology
Interpreting the Construction Sequence
A Summary Chronology
Summary Comments
List of Figures
Sources Cited
The Maya site of Cerros, a Late Preclassic port city situated on Corozal Bay in northern Belize, has been a temporal puzzle for nearly three decades. Originally investigated in the 1970s for its substantial Postclassic surface remains, most major architecture proved to date to the Late Preclassic, albeit with minimal radiocarbon confirmation. What happened to arrest site expansion was the focus of additional investigations in the 1990s. Both projects produced a series of carbon samples for dating. FAMSI grant #03064 supported testing of six carbon samples collected in the mid-1990s, drawn from three buildings in the site core (6E, 5E, and 4A). These were compared to series of six recalibrated dates processed in the 1970s. The resulting suite of dates refined Cerros' construction sequence, lending new insights into its rapid expansion ca. 50 BCE and its abrupt decline after 150 CE. These new dates correlate well with the northern Petén sequence, particularly El Mirador. Cerros' fortunes were inextricably linked to those of its trading partners, and it did not survive the collapse of the El Mirador network.
El sitio maya de Cerros, una ciudad portuaria del Preclásico Tardío, situada en la Bahía de Corozal al norte de Belice, ha sido un enigma, en lo que a su temporalidad se refiere, durante las últimas tres décadas. Investigado originalmente en la década de 1970 por los substanciales restos del Posclásico presentes en superficie, la mayor parte de su arquitectura principal resultó ser del Preclásico Tardío, si bien la confirmación radiocarbónica fue mínima. Qué fue lo que produjo la detención de la expansión del sitio ha sido el foco de distintas investigaciones realizadas en la década de 1990. Ambos proyectos produjeron una serie de muestras carbónicas para su fechamiento. Con la beca FAMSI #03064 se financió el análisis de seis muestras de carbono recolectadas a mediados de la década de 1990, tomadas en tres edificios situados en el corazón del sitio (6E, 5E, y 4A). Las mismas fueron comparadas con una serie de seis fechas recalibradas y procesadas en los años de 1970. El conjunto de datos resultantes permitió refinar la secuencia constructiva de Cerros, posibilitando nuevas perspectivas sobre su rápida expansión ca. 50 a.C. y su abrupta declinación después del 150 d.C. Estas nuevas fechas se correlacionan adecuadamente con la secuencia del norte del Petén, en especial con la de El Mirador. La suerte de Cerros estuvo inextricablemente ligada con la de sus socios comerciales, y no les fue posible sobrevivir al colapso de las redes de comercio de El Mirador.
---
Click to download the report in PDF format:
Sampling Cerros' Demise: A Radiometric Check on the Elusive Protoclassic (1.16 MB)
The PDF files require Adobe Acrobat Reader.
To download the latest version, click the Get Acrobat Reader button below.

Submitted 02/14/2005 by: