Craft Production and Socio-Economic Marginality: Living on the Periphery of Teotihuacán, México
Vea este informe en Español.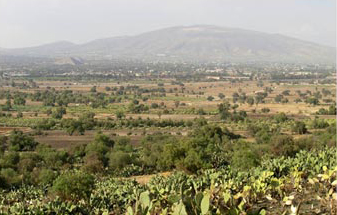 Research Year: 2004
Culture: Teotihuacán
Chronology: Early Classic
Location: Teotihuacán Valley
Site: Site 520
Table of Contents
Abstract
Resumen
Background
Site 520
Methodology
Mapping and Topographic Work
Surface Collection
Excavation
Magnetometry
Preliminary Results
Architecture
Burials
Evidence of Ceramic Manufacture
Final Comment
Acknowledgements
List of Figures
Sources Cited
This report presents preliminary results of archaeological fieldwork undertaken at Site 520, Teotihuacán, México between October 7, 2004, and February 17, 2005. Site 520 is a Teotihuacán Period ceramic production workshop located a short distance outside of ancient Teotihuacán. Field activities, consisting largely of surface survey and excavations, were carried out to collect data bearing on socio-economic interaction between the inhabitants of this site, located in the city's semi-rural periphery, and Classic Period Teotihuacán. The broader project of which this fieldwork forms a part was initiated in order to increase our understanding of the broader Teotihuacán state by investigating the degree to which and in what ways the economies of semi-rural hinterland settlements were integrated with the urban economy of the capital. A second objective was to contribute to general knowledge about prehispanic ceramic production, as well as other craft activities that draw on resources primarily available in the countryside; and to refine our characterization of settlements contemporary to and outside of the urban center of Teotihuacán.
These field operations were very successful. While lab analyses have not yet been carried out, it is anticipated that the data collected from this work will provide important new information regarding the socio-economic interaction between inhabitants of Site 520, and peoples living within the ancient city. Excavations confirmed that peoples from this site were engaged in ceramic production at a scale that would have surpassed local domestic demands. Funerary patterns and portable artifacts indicate that the inhabitants of this semi-rural settlement were to at least some extent socially and culturally integrated with peoples living within the city, and had access to some of the same imported goods as people living well within the city. Architectural remains, on the other hand, strongly contrast with the residential forms most typical of urban Teotihuacán.
Este informe presenta los resultados preliminares del trabajo de campo arqueológico realizado en el Sitio 520, Teotihuacán, México entre el 7 de octubre del 2004 y el 17 de febrero del 2005. El Sitio 520 es un taller de producción de cerámica del Período Teotihuacano localizado a corta distancia fuera de la antigua ciudad de Teotihuacán. Las actividades de campo, consistentes mayormente en prospección y excavaciones, se llevaron a cabo para obtener datos acerca de la interacción socio-económica que debió existir entre los habitantes de este sitio, localizado en la periferia semi-rural, con los de la urbe Teotihuacana del Período Clásico. El proyecto integral del cual este trabajo forma parte tiene la finalidad de incrementar nuestro entendimiento acerca del estado Teotihuacano al investigar en qué grado y de qué maneras los habitantes de los asentamientos semi-rurales de la periferia se integraron a la economía urbana de la capital. Un segundo objetivo fue el de contribuir a nuestro conocimiento general acerca de la producción de cerámica prehispánica, y de otras actividades artesanales que se favorecieron con los recursos disponibles principalmente en la periferia; así como de refinar nuestra caracterización de los asentamientos teotihuacanos ubicados en los márgenes del centro urbano de Teotihuacán.
Las operaciones de campo fueron muy exitosas. Aunque no se han iniciado todavía los análisis correspondientes, se anticipa que los datos recolectados con este trabajo proporcionarán importante información nueva respecto a la interacción socio-económica entre los habitantes del Sitio 520 y las gentes que vivían dentro de la antigua ciudad. Las excavaciones confirmaron que las gentes de este sitio participaban en la producción de cerámica en una escala que hubiera sobrepasado las demandas locales de consumo doméstico. Los patrones funerarios y artefactos portables, indican que los habitantes de este asentamiento semi-rural estuvieron, por lo menos en ciertos aspectos, integrados social y culturalmente con las gentes que vivían en la ciudad, y también que tuvieron acceso a algunas de las mercancías importados que los habitantes de la ciudad también obtenían. Por otro lado, los restos arquitectónicos contrastan fuertemente con las formas residenciales más típicas del centro urbano de Teotihuacán.
---
Click to download the report in PDF format:
Craft Production and Socio-Economic Marginality: Living on the Periphery of Teotihuacán, México (1.04 MB)
The PDF files require Adobe Acrobat Reader.
To download the latest version, click the Get Acrobat Reader button below.
Submitted 05/20/2005 by:

Arizona State University