GIS of the Maya Canoe Paddle Site, K'ak' Naab'
Vea este informe en Español.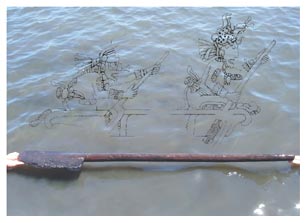 Research Year: 2005
Culture: Maya
Chronology: Late Classic
Location: Paynes Creek National Park, Toledo District, Southern Belize
Site: K'ak' Naab'
Table of Contents
Abstract
Resumen
Introduction
Methodology for Underwater Survey of K'ak' Naab'
Methods for Mapping the Underwater Site of K'ak' Naab'
Results: Wooden Structures and Activities
Type-Variety Classification
Attribute Analyses of K'ak' Naab' Pottery
GIS Spatial Analysis of Pottery at K'ak' Naab'
K'ak' Naab' and the Late Classic Maya Salt Industry
Acknowledgements
List of Figures
Sources Cited
K'ak' Naab', a Late Classic Maya salt works in Paynes Creek National Park, on the coast of southern Belize, is the site of the first known ancient Maya wooden canoe paddle. A FAMSI grant made possible complete survey and mapping of ancient wooden architecture and associated artifacts at this underwater site in 2005. This report describes the innovative underwater survey and mapping techniques developed for the project, as well as the results of type-variety and attribute analyses of pottery and the GIS spatial analyses of wooden posts and pottery. K'ak' Naab' was inundated by sea level rise, with the wooden structures preserved in mangrove peat below the seafloor. Wooden posts from two structures were associated with briquetage from the salt industry. Standardization of the briquetage indicates mass-production of the product, salt. The K'ak' Naab' canoe paddle was used in the transport of salt to inland cities, where this biological necessity was scarce. Ceramics, particularly the unit-stamped Warrie Red type, link K'ak' Naab' and the other Paynes Creek salt works to inland cities in southern Belize and adjacent Guatemala, notably Lubaantun, Seibal, Altar de Sacrificios, and cities in the Petexbatún region.
K'ak' Naab', una salina del Clásico Tardío maya en situada en el Parque Nacional de Paynes Creek, en la costa del sur de Belice, es el sitio del primer antiguo remo maya para canoa que se conoce. Una beca otorgada por FAMSI, en 2005, permitió completar el reconocimiento y mapeo de antigua arquitectura de madera y otros artefactos asociados de este sitio subacuático. Este informe describe el innovador reconocimiento subacuático y las técnicas de mapeo que se desarrollaron para el proyecto, así como los resultados de los análisis de tipo-variedad y atributos de la alfarería, y los análisis espaciales de GIS de postes de madera y alfarería. K'ak' Naab' quedó inundado por el crecimiento del nivel del mar, y sus estructuras de madera permanecieron preservadas en turbas de manglares bajo el fondo marino. Los postes de madera de dos estructuras estaban asociados con el briquetage de la industria salitrera. La estandarización del briquetage indica una producción masiva del producto, la sal. El remo de la canoa de K'ak' Naab' fue usado en el transporte de sal a ciudades del interior, donde este elemento biológicamente necesario escaseaba. Las cerámicas, en particular las que llevan el sello del tipo Warrie Rojo, vinculan a K'ak' Naab' y a las otras salitreras de Paynes Creek con ciudades del interior en el sur de Belice y la vecina Guatemala, particularmente con Lubaantun, Seibal, Altar de Sacrificios, y otras ciudades de la región del Petexbatún.
---
Click to download the report in PDF format:
GIS of the Maya Canoe Paddle Site, K'ak' Naab' (1.44 MB)
The PDF files require Adobe Acrobat Reader.
To download the latest version, click the Get Acrobat Reader button below.

Submitted 03/26/2007 by:
Heather McKillop
Department of Geography & Anthropology
Louisiana State University
Baton Rouge LA, U.S.A. 70803-4105
hmckill@lsu.edu