Bioarchaeological Investigation of the Ancient Population Structure of Mayapán
Ver este informe en Español.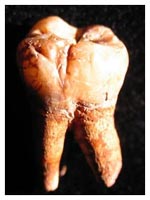 Research Year: 2005
Culture: Maya
Chronology: Late Postclassic
Location: Yucatán, México
Site: Mayapán
Table of Contents
Abstract
Resumen
Previous Bioarchaeological Studies
Materials
Methods
Dental Nonmetric–Data Preparation
Dental Nonmetric–Data Analysis
Dental Metric–Data Preparation
Dental Metric–Data Analysis
Discussion
Acknowledgments
List of Figures
List of Tables
Sources Cited
The following report presents findings from the first in-depth analysis of the human remains from Mayapán, Yucatán, México, recognized as the most important Maya city of the Late Postclassic period (c.a. 1200-1450 A.D.) (Peraza Lope, 1999). This interdisciplinary project utilized bioarchaeological methods to independently test ethnohistoric accounts of the ancient population structure of Mayapán. Based on a generous grant in 2004 from the Foundation for the Advancement of Mesoamerican Studies, Inc. (FAMSI Grant #05033, 2004), dental remains were analyzed for metric and nonmetric trait variation. While metric analyses suggest relative homogeneity of tooth size, nonmetric analyses were able to distinguish groups. The latter analyses identified statistically significant differences between low and high status burials, suggesting status differences corresponded with genetic differences. This was expected given ethnohistoric accounts ascribing foreign origins to the most powerful social groups at Mayapán, such as the ruling Cocom or their rivals the Tutul Xiu. Significant differences were also found between low status burials and mass graves, which are believed to consist of the remains of victims of sacrifice or war. This finding was also expected given ethnohistoric accounts of the massacre of the Cocom in revolts that led to the fall of Mayapán. One of these mass graves presents a pattern of rare nonmetric traits suggesting the presence of several closely related individuals. This mass grave is located in the Itzmal Chen secondary civic/ceremonial center, which is hypothesized to be associated with the K'owoj (Masson, 2003; Pugh, 2003), providing the best potential to date for identifying a historically known group in actual human remains at Mayapán.
Este informe presenta los resultados del primer análisis detallado de los restos humanos de Mayapán, Yucatán, México, considerada la ciudad maya más importante del período Posclásico Tardío (c.a. 1200-1450 d.C.) (Peraza Lope, 1999). En este proyecto interdisciplinario se utilizaron los métodos bioarqueológicos para examinar en forma independiente la estructura poblacional de Mayapán mencionada en las fuentes etnohistóricas. Gracias a una beca en el 2004 de la Fundación para el Avance de los Estudios Mesoamericanos, Inc. (FAMSI, #05033), fue posible analizar la variación entre los rasgos dentales métricos y los no métricos. Los análisis métricos sugieren homogeneidad en el tamaño de los dientes, mientras que los análisis no métricos permitieron hacer distinciones de grupos. Con los análisis no métricos se identificaron diferencias estadísticamente significativas entre los entierros de bajo y alto estatus, sugiriendo que las diferencias de estatus se corresponden con las diferencias genéticas. Este resultado es el que anticipábamos en base a las fuentes etnohistóricas, las cuales atribuyen los orígenes extranjeros a los grupos sociales más poderosos de Mayapán tales como los gobernantes Cocom o sus rivales, los Tutul Xiu. También se encontraron diferencias significativas entre los entierros de bajo estatus y las fosas comunes. Se piensa que las fosas comunes albergan los restos de las víctimas de sacrificios o de la guerra. Este resultado es el que también se esperaba, de acuerdo con las descripciones etnohistóricas de la masacre de los Cocom que terminaron con la caída de Mayapán. Una de las fosas comunes muestra un patrón de rasgos no métricos extraño que sugiere la presencia de parientes. Esta fosa común está ubicada en el centro cívico/ceremonial secundario de Itzmal Chen, el cual supuestamente estaría asociado con los K'owoj (Masson, 2003; Pugh, 2003). Como resultado, proporciona el mejor potencial hasta la fecha para identificar un grupo ya conocido a través de las fuentes etnohistóricas entre de los restos humanos que se encuentran hoy en Mayapán.
---
Click to download the report in PDF format:
Bioarchaeological Investigation of the Ancient Population Structure of Mayapán (1.17 MB)
The PDF files require Adobe Acrobat Reader.
To download the latest version, click the Get Acrobat Reader button below.

Submitted 05/10/2007 by:
Stanley Serafin
Department of Anthropology
Tulane University
sserafi@tulane.edu