Suchil River Valley Archaeological Project, Zacatecas and Durango, 2005 Season
Translation of the Spanish by Eduardo Williams
Ver este informe en Español.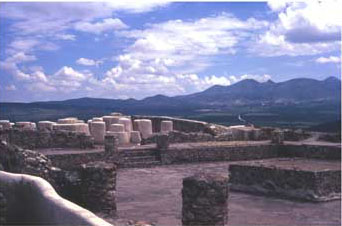 Research Year: 2005
Culture: Chalchihuites
Chronology: Classic and Postclassic
Location: Suchil River Valley, northwestern Zacatecas and southern Durango, Mexico
Sites: Alta Vista, Cerro Moctezuma, Mesa la Gloria, Ejido Cárdenas, Nopalera Grande, El Vesuvio, La Soledad, Loma Flores, Punta Peñasco, La Lagunita
Table of Contents
Abstract
Resumen
Introduction
Sampling Method
Initial Results
Preliminary Considerations
Acknowledgements
List of Figures
Sources Cited
The Suchil River Valley Project has the objective of studying the socioeconomic complexity process that different sedentary groups inhabiting the region experienced through time. This investigation tries to characterize the changes that occurred within these settled populations and that during the first millennium of our era formed what we now know now as the Chalchihuites culture. Mining activities together with the production of prestige goods are topics of relevance that we have decided to investigate in order to comprehend the political and ideological institutions of the communities. The regional archaeological surface survey sponsored by FAMSI has produced important data that is presented here as a basic preliminary typology regarding the sites that integrate this social system.
El Proyecto Arqueológico del Valle del Río Suchil tiene por objeto estudiar el proceso de complejidad socioeconómica que experimentaron los diversos grupos sedentarios que habitaron esta región. La investigación busca caracterizar los cambios ocurridos en estas comunidades que, durante el primer milenio de nuestra era, conformaron la cultura Chalchihuites. La extracción minera y en general la producción de bienes de prestigio son temas que particularmente nos hemos propuesto investigar con el fin de comprender a las instituciones del poder político e ideológico que integraron a las sociedades. El trabajo de prospección patrocinado por FAMSI aportó información que exponemos aquí como una primera tipología de los sitios que comprenden a este sistema social.
---
Click to download the report in PDF format:
Suchil River Valley Archaeological Project, Zacatecas and Durango, 2005 Season (547 KB)
The PDF files require Adobe Acrobat Reader.
To download the latest version, click the Get Acrobat Reader button below.

Submitted 06/28/2006 by:
Guillermo Córdova Tello
guicotell@hotmail.com