Regional Investigations at the Cupul Province Trading Center of Xuenkal:
Proyecto Arqueológico Xuenkal
With contributions by: Geoffrey E. Braswell, Celso Gutierrez, Justin Lowry, T. Kam Manahan, Nancy Peniche May, and Kirsten Tripplett
Ver este informe en Español.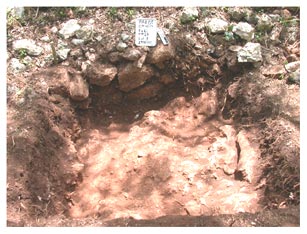 Research Year: 2005
Culture: Maya
Chronology: Late Preclassic to Terminal Classic
Location: Cupul Region, Yucatán, México
Site: Xuenkal
Table of Contents
Abstract
Resumen
Introduction (Chapter 1: by T. Kam Manahan)
Previous Research
PAX05
Survey and Mapping Investigations (Chapter 2: by Justin Lowry)
Objectives
Mapping results in the 2005 season
Discussion
Test Unit Excavations (Chapter 3: by T. Kam Manahan)
Test Pit Methodology
Discussion
Ceramic Analysis (Chapter 4: by T. Kam Manahan)
Late Preclassic–Early Classic
Cehpech Sphere
Sotuta Sphere
Hocaba Complex
Obsidian Artifacts (Chapter 5: by Geoffrey E. Braswell)
Chert Artifacts (Chapter 6: by Nancy Peniche May)
Ethnobotanical Investigations (Chapter 7: by Kirsten Tripplett, Celso Gutierrez, and Traci Ardren)
Methods
Results
Discussion
Xuenkal and Chichén Itzá–A Regional Perspective (Chapter 8: by T. Kam Manahan and Traci Ardren)
Ecological Investigation
Archaeological Investigation
Conclusions
Acknowledgements
List of Figures and Photographs
Sources Cited
The urban core of Chichén Itzá has been investigated for more than a century however very few studies have focused on the secondary centers that surround Chichén. One of the principle objectives of the Proyecto Arqueológico Xuenkal is systematic investigation of the political and economic influence of Chichén Itzá from the perspective of Xuenkal, the largest center in the Cupul region. After two field seasons of investigation at Xuenkal, the preliminary settlement patterns suggest the center of the site was more closely affiliated with regional patterns of architecture and settlement than with the reproduction of typical gallery-patio and internal sacbes considered characteristic of Chichén. We present the results of mapping and excavation conducted to date by the Proyecto Arqueológico Xuenkal and our evaluation of the significance of this data for understanding the relationship of Xuenkal to other major centers of the region such as Ek Balam, Izamal, and Chichén Itzá.
El centro de Chichén Itzá ha sido investigado por más de un siglo, sin embargo muy pocos estudios se han enfocado en los centros secundarios circundantes. Uno de los principales objetivos del Proyecto Arqueológico Xuenkal es investigar sistemáticamente el grado de influencia política y económica de Chichén Itzá desde la perspectiva de Xuenkal, el mayor asentamiento en la región de Cupul. Después de dos temporadas de investigación en Xuenkal, los patrones preliminares de asentamiento sugieren que el centro se asocia más de cerca con los patrones regionales de formas arquitectónicas y asentamientos, que con la reproducción típica de los grupos de patios, galerías, y los sistemas de sacbe distintivos de Chichén. Presentamos los resultados de mapeo y excavación llevados a cabo hasta la fecha por el Proyecto Arqueológico Xuenkal y nuestra evaluación del significado de esta información para comprender la relación de Xuenkal con otros centros principales de la región tales como Ek Balam, Izamal, y Chichén Itzá.
---
Click to download the report in PDF format:
Regional Investigations at the Cupul Province Trading Center of Xuenkal:
Proyecto Arqueológico Xuenkal (2.44 MB)
The PDF files require Adobe Acrobat Reader.
To download the latest version, click the Get Acrobat Reader button below.

Submitted 02/06/2007 by:
Traci Ardren
tardren@miami.edu