Photographic Documentation of Monuments with Epi-Olmec Script/Imagery
Vea este informe en Español.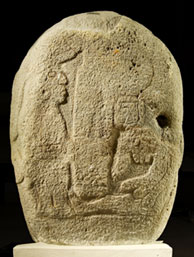 Research Year: 2005
Culture: epi-Olmec
Chronology: Pre-Classic
Location: Xalapa Anthropology Museum, National Museum of Anthropology - Mexico City, Tres Zapotes Site Museum
Sites: Xalapa, Tres Zapotes, Cerro de las Mesas, El Mesón
Table of Contents
Introduction
Background
Working Universe
Technique
Known epi-Olmec Texts
A sketch of prior documentation of epi-Olmec texts
The Tuxtla Statuette
Cerro de las Mesas Stela 5, 6, 8, 15
The Chapultepec Stone
Tres Zapotes Stela C
Chiapa de Corzo
The O'Boyle "mask"
The La Mojarra Stela
The Teotihuacan-style Mask
The "Alvarado Stela"
Some epi-Olmec Monuments that do not bear text
Our Work
The La Mojarra Stela
Tres Zapotes Stela C
Monuments of or relating to Cerro de las Mesas
The Alvarado Stela
Epi-Olmec monuments from El Mesón
Acknowledgements
List of Photographs
Sources Cited
This photographic documentation project provides photographic documentation of monuments in Mexican museums belonging to the so-called epi-Olmec tradition. The main purpose of this report is to disseminate a set of photographs that constitute part of the primary documentation of epi-Olmec monuments, with particular emphasis on those bearing epi-Olmec texts, and of a few monuments from a tradition that we suspect replaced it at Cerro de las Mesas. It does not include objects that are well-published elsewhere, nor does it include two objects to which we have been unable to gain access to. Its first aim is to marry a trustworthy photographic record and the web presence of FAMSI for the purpose of making widely available a large percentage of the corpus of monuments belonging to this cultural tradition. It is hoped that this will have a very positive effect on advancing the script's understanding and supporting its decipherment.
---
Click to download the report in PDF format:
Photographic Documentation of Monuments with Epi-Olmec Script/Imagery (224 KB)
Additional Photo Albums (PDFs)
Alvarado Stela Photographs
Cerro de las Mesas - Stela 3
Cerro de las Mesas - Stela 4
Cerro de las Mesas - Stela 5
Cerro de las Mesas - Stela 6
Cerro de las Mesas - Stela 8
Cerro de las Mesas - Monument 4
The Chapultepec Stone
El Mesón Basalt Column
El Mesón Stela 1
La Mojarra Stela: Main text
La Mojarra Stela: Side text
Papaloapan Stela
Tepetlaxco Stela 1
Tres Zapotes Stela C (upper section)
Tres Zapotes Stela C (lower section)

The PDF files require Adobe Acrobat Reader.
To download the latest version, click the Get Acrobat Reader button below.

Submitted 08/18/2006 by:
Jorge Pérez de Lara
jorgepl@estudioelias.com