Detecting Foreigners in Archaeological Human Dental Enamel in Yucatán, México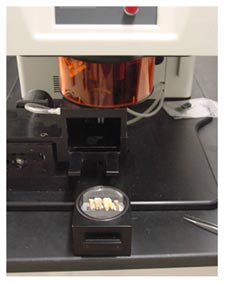 Click on image to enlarge.
Research Year: 2006
Culture: Maya
Chronology: Classic and Colonial
Location: Yucatán and Campeche, México
Sites: Xcambó, Calakmul, and Campeche
Table of Contents
Abstract
Resumen
Introduction
Materials and Methods
Results
Discussion
Acknowledgments
List of Figures
List of Tables
Sources Cited
Laser Ablation Inductively Coupled Plasma Mass Spectrometry (LA-ICP-MS) has been applied to the enamel of the first permanent molar of subadult and adult human teeth from three archaeological Maya sites from northern Yucatán in order to detect regional variation in trace element composition. The scope of the analysis was to characterize the elemental composition in the three areas (corresponding to Xcambó, Campeche and Calakmul), resting upon the pattern obtained from the subadults, and from that be able to assess the presence of adult individuals whose elemental composition does not correspond to that of the subadults. After ruling out diagenesis, those individuals should represent foreigners who migrated into the area at some point in their life. Two individuals at Calakmul and two more at Xcambó have been detected to show clear differences in the trace elements composition of their teeth. None of them overlaps with the ranges of variability that characterize the three sites, which indicates that they might have originated from some different area in the Maya region.
El presente estudio aplica la ablación láser acoplada a la espectrometría de masa LA-ICP-MS a los dientes humanos de adultos y subadultos procedentes de los sitios maya de Xcambó, Calakmul y Campeche, en el norte de Yucatán, para poder determinar la variabilidad en la composición en elementos traza a nivel regional. La investigación mira a establecer la composición química en las tres áreas, a partir de la información recabada por los individuos subadultos, y de allá inferir sobre la presencia de adultos cuya composición no corresponde a la que caracteriza el sitio. Una vez descartada la posibilidad de diagénesis, esta diferencia debería atestiguar que los individuos eran foráneos que migraron al sitio en cualquier momento de su vida. Se han detectado dos individuos en Calakmul y dos más en Xcambó que aparentemente no pertenecen al sitio. Sin embargo, ninguno de los cuatro cae en el rango de variabilidad de los otros sitios, lo que indica que podrían haber llegado desde áreas en la región que no han sido investigadas por este análisis.
---
Click to download the report in PDF format:
Detecting Foreigners in Archaeological Human Dental Enamel in Yucatán, México (1.40 MB)
The PDF files require Adobe Acrobat Reader.
To download the latest version, click the Get Acrobat Reader button below.

Submitted 11/01/2007 by:
Dr. Andrea Cucina
Facultad de Ciencias Antropológicas
Universidad Autónoma de Yucatán
Km. 1 Carretera Mérida-Motul
97305 Mérida, Yucatán, México
acucina@yahoo.com