'Insubstantial' Residential Structures at Teotihuacán, México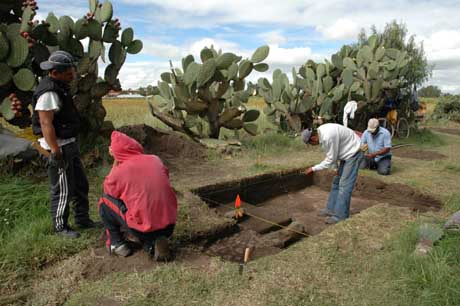 Click on image to enlarge.
Research Year: 2006
Culture: Teotihuacán
Chronology: Classic
Location: Teotihuacán, México
Site: Teotihuacán
Table of Contents
Abstract
Resumen
Introduction
Background
The Teotihuacán Mapping Project and \'insubstantial structures\'
The 2005 field reconnaissance
Field activities in 2006
Site 6: N5W5
Site 1: N4W5
Site 10: N1W7
Site 4: S4E3
Site 10: S6E1
Site 2: N2E6
Site 15: N1E6
Conclusion
Acknowledgements
List of Figures
Sources Cited

In the summer of 2006, field investigations were carried out at Teotihuacán with the aim of recovering new archaeological information on 'insubstantial structures,' a little known architectural type inferred from surface survey data collected in the 1960s by the Teotihuacán Mapping Project (TMP). Various kinds of field activities, including several forms of geophysical remote sensing (electrical resistivity, magnetometry, and ground penetrating radar) and excavation, were employed at several sites interpreted by the TMP as insubstantial structures. Architectural remains associated with one such site, 15:N1E6, were documented near the eastern edge of the ancient city.
En el verano de 2006, se llevaron a cabo investigaciones de campo en Teotihuacán con el fin de generar nuevos datos arqueológicos sobre las "estructuras rudimentarias" o chozas, un tipo de estructura arquitectónica poco conocida, e inferida a partir de los datos obtenidos por el Teotihuacán Mapping Project en la década de los sesentas a través de sus recorridos de superficie. En varios sitios interpretados por el TMP como "estructuras rudimentarias", se llevaron a cabo varias actividades de campo, incluyendo técnicas geofísicas de detección remota (resistividad eléctrica, gradiente magnético y radar de penetración terrestre) y excavaciones. Como resultado de estos trabajos, se registraron restos arquitectónicos de una estructura rudimentaria asociados con el sitio 15:N1E6, ubicado cerca del límite este de la ciudad antigua.
---
Click to download the report in PDF format:
'Insubstantial' Residential Structures at Teotihuacán, México (1.64 MB)
The PDF files require Adobe Acrobat Reader.
To download the latest version, click the Get Acrobat Reader button below.

Submitted 07/28/2008 by:
Ian Robertson
Department of Anthropology
Stanford University
igr@stanford.edu