A Mixtec-Language Atlas of the Mixteca Alta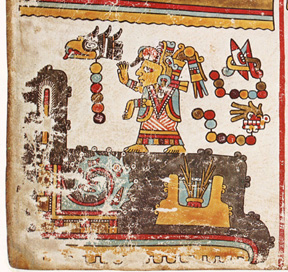 Click on image to enlarge.
Research Year: 2007
Culture: Mixtec
Chronology: 15th to 20th century / Postclassic, Colonial, Post-Independence
Location: Oaxaca, Mexico
Site: Nochixtlán Valley, Mixteca, Teposcolula Valley, Coixtlahuaca Valley
Table of Contents
Abstract
Resumen
Introduction
Method
User's Guide
Findings
List of Figures
Sources Cited
Appendix I - General Resources
Appendix II - Specific Resources
The decipherment of place glyphs continues to challenge our understanding of the Mixtec codices. A rich but unused source of information on Mixtec place names are colonial and independence-period land boundary documents. These include early twentieth-century copies of nineteenth-century town boundary maps in the Mapoteca Orozco y Berra (Mexico City); sixteenth- to twentieth-century alphabetic land litigation documents, some of them with accompanying maps, in the Archivo General de la Nación (Mexico City), and nineteenth- and twentieth-century alphabetic texts and maps in the Archivo General Agrario (Mexico City) and the Archivo General del Estado de Oaxaca (Oaxaca City). This final report presents the results of my FAMSI-funded research in these archives. Project results include a) a .pdf index compiling all of the towns and Mixtec place names encountered in my research, organized by document; b) dozens of small-scale maps in which the place names for each particular document have been plotted; c) a large-scale map which combines the information from each individual document-map; and d) alphabetic transcriptions of the various documents consulted and from which the data in the index and maps have been taken. In addition, this final report presents a) an explanation of the methods used in this research, b) a User's Guide to the above-mentioned resources, and c) a discussion of some of the patterns found in these documents. In particular, I discuss what these land documents reveal about how place names changed over the course of the colonial and independence periods, and how these diachronic changes shape how we can use place names attested in colonial and independence-period documents to interpret the rich topographies painted in the prehispanic and early colonial Mixtec screenfolds.
El desciframiento de los glifos topográficos continúa desafiando nuestra comprensión de los códices mixtecos. Una fuente rica--pero inusitada--de la información sobre topónimos mixtecos son los documentos alfabéticos de linderos de las épocas coloniales y nacionales. Actualmente se puede encontrar estos documentos en varios fondos: copias del s. XX de mapas del s. XIX en la Mapoteca Orozco y Berra (México DF); documentos alfabéticos de litigios sobre tierras (algunos con mapas) del s. XVI hasta el s. XX en el Archivo General de la Nación de México (México DF); y documentos alfabéticos y mapas de los siglos XIX y XX en el Archivo General Agrario (México DF) y el Archivo General del Estado de Oaxaca (Ciudad de Oaxaca). Este informe presenta los resultados de mis investigaciones apoyadas por FAMSI. Los resultados incluyen a) un índice formato .pdf que combina los nombres de todos los pueblos y nombres topográficos mixtecos que encontré en mis investigaciones, organizado por documento, b)docenas de mapas de escala pequeña en que los nombres topográficos de cada documento han estado registrado; c) un mapa de escala grande que combina los datos de cada mapa de escala pequeña; d) transcripciones mecanografiadas de los documentos originales que generaron los datos en el índice y mapas. Además, este informe presenta a) un explanación de los métodos utilizados en este proyecto; b) una Guía del Usario para los recursos generados en este proyecto; c) una discusíon de unos de los temas temáticas que aparecen en estos documentos. Espcificamente, ¿Qué indican estos documentos sobre los cambios de nombres topogáficos a lo largo de las épocas coloniales y nacionales? ¿Qué es el impacto de estos cambios diacrónicos en la utilización de nombres topográficos encontrados en documentos coloniales y nacionales para interpretar las topografías ricas que se encuentran pintadas en los códices mixtecos prehispánicos y coloniales?
---
Click to download the report in PDF format:
A Mixtec-Language Atlas of the Mixteca Alta (2.27 MB)
The PDF files require Adobe Acrobat Reader.
To download the latest version, click the Get Acrobat Reader button below.

Submitted 09/14/2008 by:
Byron Hamann
University of Chicago
behamann@uchicago.edu