Palisades and Ditches: Defense and the Development of the Yaxchilán Polity
With contributions from Andrew K. Scherer, Rosaura Vásquez, Ana Lucia Arroyave, Betsy Marzahn-Ramos, E. Damaris Menéndez Bolaños, Mauro Montejo, Fabiola Quiroa, Claudia Valenzuela, and Selket Callejas
Translation of the Spanish by Eduardo Williams
Vea este informe en Español.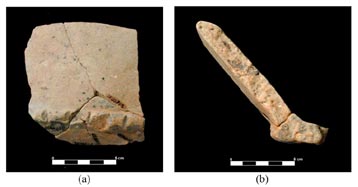 Research Year: 2007
Culture: Maya
Chronology: Preclassic to Classic
Location: Petén, Guatemala
Site: El Kinel, Zancudero
Table of Contents
Abstract
Resumen
Introduction to the Fifth Season (2007) of the Sierra del Lacandón National Park Regional Archaeological Project
Introduction
The Sierra del Lacandón Regional Archaeological Project: a Brief Review
Collaboration with the Community of La Técnica
Synopsis of field research in the sites of El Kinel and Zancudero
Excavations in the H10-1 Structure in El Kinel's North Sector
EK-01-D
Conclusions
Excavations at El Kinel, South Group: Operation EK-03A, 2007 Season
Introduction
EK-03A-1
EK-03A-2
EK-03A-4
EK-03A-5
EK-03A-6
EK-03A-7
EK-03A-8
EK-03A-9
EK-03A Ceramics
Discussion
Excavations on the south embankment of El Kinel\'s canal: EK-04A and EK-7A
EK-04A-04 and 05
EK-07A-01: Excavations in Structure G9-2
Burial 12 (EK-07A-02-02)
Conclusions
Excavations in El Kinel: Operations 04B, 05A, 6A, 9A
EK-04B
EK-05A
EK-06A
EK-09A
Conclusions
Excavations in the south edge of the canal in the site of El Kinel: EK-08A
EK-08A-1
EK-08A-2
EK-08A-3
EK-08A-4
Conclusions
Excavations in Zancudero: ZD-01B, 2007 Season
ZD-01B-04
Burial 1 (ZD-01B-04-03)
Conclusions
Excavations at Zancudero: Operations 01C and 02A
ZD-01C
ZD-02A-1
Looting on the wall
Excavations in the Zancudero site: Operation 01D
ZD-01D-1
ZD-01D-2
ZD-01D-3
ZD-01D-4
ZD-01D-5
ZD-01D-6
ZD-01D-7
Topographic survey of the El Kinel and Zancudero Sites, 2007
Methodology
Making the map of El Kinel
Making the map of Zancudero
Summary and Conclusions
Introduction
General perspective on El Kinel
General Perspective on Zancudero
Future research
Acknowledgments
List of Figures
Sources Cited

This report provides details and a synthesis of investigations completed during the 2007 field season of the Sierra del Lacandon Regional Archaeology Project (SLRAP). With the support of FAMSI and other organizations the researchers of the SLRAP focused on excavations and mapping of the sites of El Kinel and Zancudero, Guatemala and their defensive features. Field work was carried out between June 7 and 28, 2007. In 2006, the SLRAP began a program of excavations focused on sites in and around the modern community of La Técnica Agropecuaria. Of particular interest were two archaeological sites, the Preclassic center of La Tecnica, located in the center of the modern community, and the Late Classic center of El Kinel, located in the communities agricultural fields. El Kinel was significant for two reasons: First, in 2000, a monument depicting Shield Jaguar III, ruler of Yaxchilán, was recovered by members of the local community during road construction. Second, a canal divides the site into a North and a South Sector. The form and size of the canal suggests that it was, in great part, an anthropogenic feature. The first impression of this feature is that it may have functioned in a defensive role for the people of El Kinel, an interpretation supported by excavations in 2006, which revealed a series of postmolds associated with the canal. Additionally, in 2006 the members of SLRAP documented for the first time a Preclassic center called Zancudero, situated along the southern limit of the Sierra del Lacandón National Pak, just north of the boundaries of the modern community of La Técnica. The most notable feature of Zancudero is a defensive wall measuring approximately 800m in length, that encircles a series of low platforms and a massive hill that provides a sweeping view of the surrounding region. In those areas not protected by the wall, the site is surrounded by swampland and the Arroyo Yaxchilán
Este reporte brinda los detalles y una síntesis de las investigaciones completadas durante las temporadas de campo 2007 del Proyecto Regional Arqueológico Sierra del Lacandon (PRASL). Con el apoyo de FAMSI y otras organizaciones los investigadores de PRASL enfocaron en las excavaciones y mapeo de los sitios de El Kinel y Zancudero, Guatemala y sus rasgos defensivos. Las investigaciones de campo se realizaron entre el 7 y 28 de junio de 2007. A partir de 2006, el PRASL inicio un programa de excavaciones más enfocadas en sitios en y alrededor de la comunidad moderna de La Técnica Agropecuaria. De esencial interés fueron dos sitios arqueológicos, el centro preclásico en La Técnica, localizado en el centro de la comunidad moderna, y el cercano centro del Clásico Tardío de El Kinel, ubicado en los campos agrícolas de comunidad. El Kinel es relevante por dos razones: Primero, en el año 2000, un monumento mostrando a Escudo Jaguar III, un gobernante de Yaxchilán, fue recuperado por miembros de la comunidad local durante la construcción de un camino. Segundo, un canal divide el sitio en los Sectores Norte y Sur. La forma y el tamaño del canal sugiere que este es, en buena parte, un rasgo antropogénico. La primera impresión de este rasgo es que pudo haber servido como una forma defensiva para la gente de El Kinel, una interpretación sostenida por las excavaciones de 2006 que revelaron una serie de huellas de postes asociados con dicho canal. También, durante la temporada de 2006, el proyecto documentó, por primera vez, un sitio preclásico denominado Zancudero, situado a lo largo del límite sur del parque nacional, justo al norte de los límites de la comunidad moderna de La Técnica. El rasgo más notable de Zancudero, es la presencia de una muralla defensiva de aproximadamente 800m de largo, que encierra una serie de plataformas bajas, y un cerro grande que brinda una vista dominante sobre la región circundante. En lugares donde el sitio no está protegido por la muralla, se rodea de tierras pantanosas y por el Arroyo Yaxchilán.
---
Click to download the report in PDF format:
Palisades and Ditches: Defense and the Development of the Yaxchilán Polity (6.93 MB)
For those with slower connections download the PDF file in sections:
Part 1 (4.37 MB)
Part 2 (4.70 MB)
The PDF files require Adobe Acrobat Reader.
To download the latest version, click the Get Acrobat Reader button below.

Submitted 03/19/2008 by:
Charles Golden
Department of Anthropology, Brandeis University
charles.dorado@gmail.com