Encounters with the Past: Archaeological Research By and For Students in El Paraíso, Department of Copán, Honduras
With contributions by: Ellen E. Bell, California State University, Stanislaus, and Marcello A. Canuto, Yale University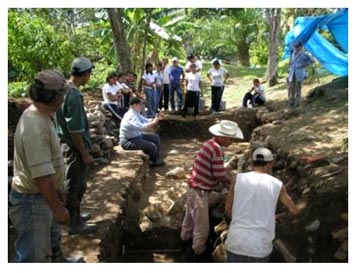 Click on image to enlarge.
Research Year: 2007
Culture: Maya and non-Maya
Chronology: Late Preclassic to Late Classic, 200 B.C. to A.D. 850
Location: El Paraíso Valley, Department of Copán, Western Honduras
Sites: El Paraíso, El Cafetal, and El Guayabal
Table of Contents
Abstract
Resumen
Introduction to PAREP
Community-responsive Archaeology
The Student Research Program
Results
Conclusion
Acknowledgements
List of Figures
Sources Cited
The following report details the results of a community-responsive archaeological project undertaken in the El Paraíso valley, Department of Copán in western Honduras. Since its inception in 2002, the El Paraíso Region Archaeological Project (PAREP) has been committed to public outreach and education. The 2007 field program formalized these efforts by involving local secondary students in archaeological research at the ancient Maya and non-Maya sites of El Cafetal, El Guayabal, and El Paraíso. This program included four components–lectures, fieldwork, laboratory analysis, and presentation of experiences. Eighteen students participated over the course of three weeks. This project represents a collaboration between archaeologists and specific community members. In doing so, it took the educational experience outside of the classroom, cultivated an appreciation for national heritage, and perhaps inspired future Honduran archaeologists.
La presente detalla los resultados de un proyecto arqueológico comunitario llevado a cabo en el Valle el Paraíso, Departamento de Copán, Honduras. Desde su inauguración en el 2002, el Proyecto Arqueológico Regional El Paraíso (PAREP) se ha dedicado a la educación pública y a involucrar a la comunidad local en las investigaciones arqueológicas. En 2007, se formalizaron estos esfuerzos, integrando estudiantes del nivel secundario en las investigaciones arqueológicas enfocadas en los sitios Mayas y no-Mayas de El Cafetal, El Guayabal, y El Paraíso, ubicados dentro del Valle El Paraíso. El programa abarcaba cuatro componentes: ponencias, excavaciones, análisis laboratorio, y la presentación pública de las experiencias de los participantes. Se participaron 18 alumnos, y el programa duró unas 3 semanas. El programa representa un esfuerzo colaborativo entre arqueólogos y un segmento específico de la comunidad. Por medio del programa, el PAREP logró llevar la experiencia educativa fuera del aula, cultivando un aprecio para el patrimonio cultural de Honduras dentro de los alumnos, y quizás hasta inspirar en algunos el deseo de integrarse a la futura de la arqueología Hondureña.
---
Click to download the report in PDF format:
Encounters with the Past: Archaeological Research By and For Students in El Paraíso, Department of Copán, Honduras (636 KB)
The PDF files require Adobe Acrobat Reader.
To download the latest version, click the Get Acrobat Reader button below.

Submitted 11/12/2007 by:
Pamela L. Geller, Ph.D.
University of Pennsylvania Museum of Archaeology and Anthropology
pgeller@sas.upenn.edu