The Architectural History of La Venta Complex A:
A Reconstruction Based on the 1955 Field Records
Vea este informe en Español.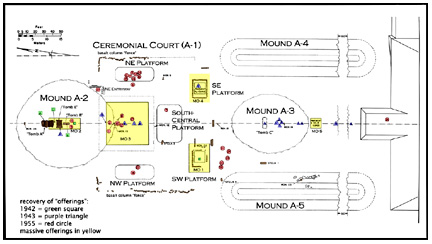 Click on image to enlarge.
Research Year: 2007
Culture: Olmec
Chronology: Middle Preclassic
Location: Tabasco, México
Site: La Venta
Table of Contents
Abstract
Resumen
Introduction: Project Overview
Background to the Research Problem
La Venta
The Complex A Architecture
The Building Phases of Complex A
Problems with the Complex A Maps and Drawings
The 1955 Map of Complex A
The 1968 Map of La Venta
The Profile Drawings
Summary
The 1955 Field Records
The Robert F. Heizer Papers
Elevation Data
Digitizing the Complex A Map Information
The Phase-by-Phase Maps
Conclusion
Acknowledgments
List of Figures
List of Tables
Sources Cited
Complex A, the ceremonial precinct of the important Middle Formative Olmec site of La Venta, Tabasco, was excavated in 1955 in a project directed by Philip Drucker and Robert Heizer. Unfortunately, the surface architecture of Complex A was destroyed by 1956, such that archaeologists have had to rely on the 1955 maps, profile drawings, and descriptions of the excavations, which were published in 1959. However, there are many acknowledged shortcomings in the 1959 publication. This objective of this project was to obtain additional information concerning the 1955 excavations by consulting the field maps and records, housed in the National Anthropological Archives (Smithsonian Institution) in Suitland, Maryland. The focus of analysis was to produce the first accurate phase-by-phase construction plans of the architecture of Complex A to reveal new insights into the history and construction of the Complex A architecture.
El Complejo A, la zona ceremonial del sitio Formativo Medio olmeca de La Venta, Tabasco, se excavó en 1955 en un proyecto dirigido por Philip Drucker y Robert Heizer. Desgraciadamente, la arquitectura de la superficie del Complejo A fue destruido en 1956, tanto que los arqueólogos debían que fiarse de los 1955 mapas, dibujos de perfiles, y las descripciones de las excavaciones, que se publicó en 1959. Sin embargo, hay muchos defectos reconocidos en la publicación de 1959. El objetivo de este proyecto debía obtener información adicional con respecto a las 1955 excavaciones consultando los mapas de campo y registros en los Archivos Antropológicos Nacionales (Institución Smithsonian) en Suitland, Maryland. El foco del análisis debía producir los primeros planes exactos de la construcción de la arquitectura del Complejo A fase-por-fase, revelar las penetraciones nuevas en la historia y la construcción de la arquitectura ceremonial del Complejo A.
---
Click to download the report in PDF format:
The Architectural History of La Venta Complex A: A Reconstruction Based on the 1955 Field Records (1.07 MB)
The PDF files require Adobe Acrobat Reader.
To download the latest version, click the Get Acrobat Reader button below.

Submitted 02/15/2008 by:
Susan D. Gillespie
Department of Anthropology
University of Florida
P.O. Box 117305
Gainesville, FL 32611-7305
sgillesp@ufl.edu