The Settlement Patterns of Chichén Itzá, Yucatán
Vea este informe en Español.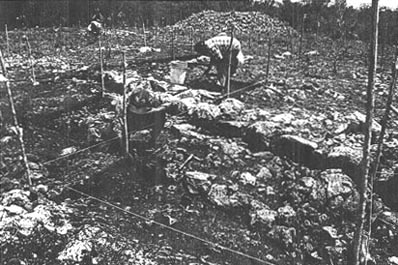 Research Year: 1997
Culture: Maya
Chronology: Classic
Location: Yucatán, Quintana Roo, México
Site: Chichén Itzá
Table of Contents
Abstract
Resumen
Excavations at Group Sacbe 61
Structure 2A17
Structure 2A21
Structure 2A22
Test Excavations
Survey and Mapping of Structures at Chichén Itzá
Quadrant 21A
Quadrant 1Z
Quadrant 1A
Quadrant 5D
Survey and Mapping of Causeways at Chichén Itzá
List of Figures
Sources Cited
A research program consisting of surveying and excavations was conducted at Chichén Itzá, Yucatán, during the ten-week period between March 31 and June 6, 1997. The final report of the 1997 field season is presented to FAMSI and includes results of the horizontal excavations, test excavations, and mapping at the site. This report describes each of these activities.
En Chichén Itzá, Yucatán, se llevó a cabo un programa de investigación que consistió en relevamientos y excavaciones y que se extendió por un período de diez semanas, entre el 31 de marzo y el 6 de junio de 1997. Se presenta a FAMSI el informe final de la temporada de campo 1997, el cual incluye los resultados de las excavaciones horizontales, las excavaciones de prueba, y el mapeo del sitio. El presente informe describe cada una de dichas actividades.
---
Click to download the report in PDF format:
The Settlement Patterns of Chichén Itzá, Yucatán (13.9 MB)
The PDF files require Adobe Acrobat Reader.
To download the latest version, click the Get Acrobat Reader button below.

Submitted 06/01/1998 by:

Universidad Autónoma de Yucatán