Palenque and Selected Survey Sites in Chiapas and Tabasco: The Preclassic
Vea este informe en Español.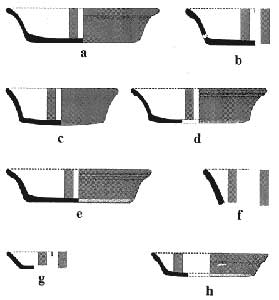 Research Year: 1998
Culture: Maya
Chronology: Pre-Classic
Location: Chiapas and Tabasco, México
Sites: Palenque, Trinidad, Zapatilla, Chinikiha, Paso Nuevo
Table of Contents
Abstract
Resumen
Introduction
Trinidad
Zapatillo (Nueva Esperanza)
Chinikiha
Paso Nuevo
Palenque
Methodology and Closing Comments
Key to Illustrations
Illustrations
Sources Cited
Archaeological research focused on the major Classic Maya site of Palenque included the occasional recovery of Preclassic remains at various survey sites in Chiapas and Tabasco. Preclassic ceramics at four of these, in addition to Palenque, are considered. The Middle Preclassic is well represented at all sites, a primary subdivision being the appearance of waxy wares. The non-waxy to waxy shift, recalling Xe-Mamom relationships, is more pronounced than changes marking the Middle to Late Preclassic transition. Initial Middle Preclassic similarities tend to be stronger outside the Maya Lowlands than with other Lowland Maya sites, and a few ceramics also have non-Maya Early Preclassic correspondences. Depending in part on the survey site under consideration, Olmec/Greater Isthmiam features and Chalchuapa-like treatments are noted. Usually, however, relationships are observed on a modal rather than typological level, perhaps reflecting the reworking of external influences from varied sources and the occasional retention of earlier features as archaisms.
La investigación arqueológica enfocada en el mayor sitio Maya Clásico de Palenque incluye la recuperación ocasional de restos Preclásicos en varios sitios examinados en Chiapas y Tabasco. Las cerámicas del Preclásico de cuatro de estos sitios, en adición al de Palenque, son también consideradas. A su vez se observa en todos estos sitios una buena representación del Preclásico Medio, habiendo una primera subdivisión de acuerdo a si cuentan con apariencia de alfarería encerada. El cambio de no-encerado a encerado, aludiendo a una relación con Xe-Mamom, es más notorio que los cambios marcando la transición del Preclásico Medio al Tardío. Las primeras similitudes del Preclásico Medio tienden a ser mucho más fuertes afuera de las Tierras Bajas Maya que con otros sitios de las Tierras Bajas Mayas, unas pocas cerámicas también presentan correspondencia no-Mayas del Preclásico Temprano. Dependiendo en parte del sitio examinado que se considere, se observan rasgos Olmeca/Greater Isthmiam y tratamientos de tipo Chalchuapa. Sin embargo usualmente, las relaciones son observadas a nivel modelo más que tipológico, reflejando quizás el re-procesado de influencias externas provenientes de varias fuentes y la ocasional retención de rasgos tempranos tales como el arcaísmo.
Robert L. Rands and Ronald L. Bishop are co-authors of "The Dish-Plate Tradition at Palenque: Continuity and Change." In Patterns and Process: A Festschrift in Honor of Dr. Edward V. Sayre, edited by Lambertus van Zelst. This paper was published by Smithsonian Center for Research and Education, Suitland, Maryland in 2003 and is available in the FAMSI library.
---
Click to download the report in PDF format:
Palenque and Selected Survey Sites in Chiapas and Tabasco: The Preclassic (336 KB)
The PDF files require Adobe Acrobat Reader.
To download the latest version, click the Get Acrobat Reader button below.

Submitted 06/24/2002 by:
Robert L. Rands