Multispectral Imaging of the Tepantitla Murals at Teotihuacán
Vea este informe en Español.
Research Year: 1999
Culture: Teotihuacán
Chronology: Classic
Location: Teotihuacán, México
Site: Tepantitla
Table of Contents
Abstract
Resumen
Mural 2 (talud), Portico 2
Mural 2 (tablero), Portico 2
Mural 3 (talud), Portico 2
Mural 3 (tablero), Portico 2
Mural 4, Portico 2
Mural 5, Portico 2
Mural 6, Portico 2
This report contains images produced by this project which includes all of the murals of Portico 2 at Tepantitla. Murals 2, 3, 4, 5, and 6 were each divided into squares and each square was assigned a coordinate in the form of (x,y). For each square, 14 photographs were taken, using 14 different filters on the camera, so there are 14 different images of each square. In general, each of these filters corresponds to a slightly different color.
These 14 filters correspond to 11 filters of specific wavelengths in the color spectrum and three filters used for later color reconstruction. The 11 specific wavelengths (or colors) we chose range from 400 nm to 1000 nm, which are the wavelengths for visible light and infrared. The three filters we used for color reconstruction are named "Red," "Blue," and "Green". These were combined to create one color image for each square. The color reconstructions for each square are available for you to view in both thumbnail and 500 pixel-width choices.
Este informe contiene imágenes producidas por este proyecto, que incluyen todos los murales del Pórtico 2 de Tepantitla. Los murales 2, 3, 4, 5, y 6 fueron cada uno divididos en cuadrados, y a cada cuadrado se le asignó una coordenada en la forma de (x,y). Para cada cuadrado se tomaron 14 fotografías en las que se usaron 14 filtros diferentes en la cámara, de modo que hay 14 imágenes diferentes de cada cuadrado. En general, cada uno de estos filtros corresponde a un color ligeramente diferente.
Estos 14 filtros corresponden a 11 filtros de una longitud de onda específica en el espectro de colores, y a tres filtros que se usaron para la reconstrucción posterior de los colores. Las 11 longitudes de onda específicas (o colores) que elegimos varían entre los 400 nm y los 1000 nm, que son las longitudes de onda para la luz visible y el infrarojo. Los tres filtros que utilizamos para reconstruir los colores se llaman "Rojo", "Azul", y "Verde". Éstos fueron combinados para crear una imagen a color para cada cuadrado. Las reconstrucciones de los colores para cada cuadrado están disponibles para que puedan ser vistas según se desee, como contactos (o imágenes pequeñas) o con un ancho de 500 pixeles.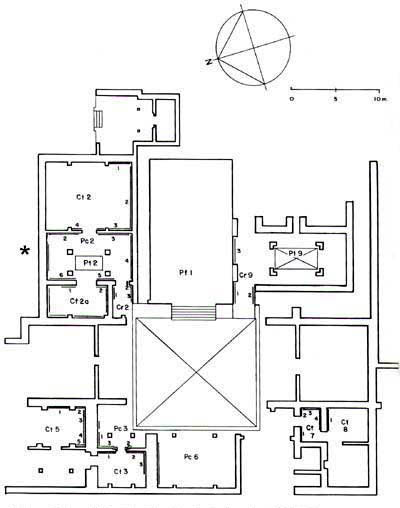 Plan of Tepantitla, after Beatriz del la Fuente, 1995: 138, La Pintura Mural Prehispánica en México.
---
Click to download the report in PDF format:
Multispectral Imaging of the Tepantitla Murals at Teotihuacán (9.96 KB)
The PDF files require Adobe Acrobat Reader.
To download the latest version, click the Get Acrobat Reader button below.

Submitted 02/01/2000 by:

University of California, Riverside