Preparation of a K'ichee' Choltziij Dictionary
FAMSI project numbers: 95094, 97005, 98062
Vea este informe en Español.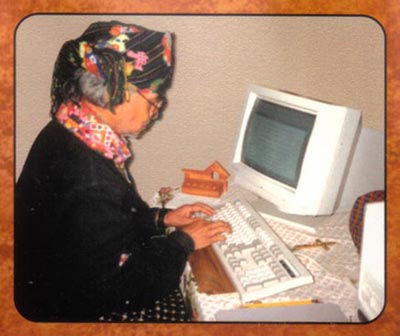 Research Year: 2000
Culture: Maya
Chronology: Contemporary
Location: Santa Catarina Ixtahuacán, Guatemala
Sites: Various
When Sr. Florentino Ajpacajá Tum submitted his Grant Application to FAMSI in 1995, all of our Board Members responded enthusiastically, and provided monies for Florentino to begin the task of computerizing his word lists. Neither Florentino nor FAMSI realized at the time that his list of K'ichee' Choltziij words would eventually grow to 20,000 entries.
Sr. Ajpacajá was able to complete an initial draft of his dictionary by the close of 1996. But, as he entered the editing phase, he kept acquiring additional words! After six long years of tremendous concentration and dedication, the work was finally ready for publication. Much to Florentino's great relief, the first printing of his enormously important dictionary was 2001. He shared with us his belief that, "The challenge now is for speakers of other Maya languages to write similar dictionaries. We must do this to strengthen our languages and to get ready for the process of making the Maya languages official languages in Guatemala."
I speak for all the FAMSI members in expressing our great sorrow upon receiving news of Florentino's accidental death in August, 2002. Florentino Pedro Ajpacajá Tum, we share your concern for the future of Maya languages.
A copy of Florentino's dictionary is available for study in the FAMSI library.
Dr. Sandra Noble, Executive Director
FAMSI
The K'ichee' Choltziij Dictionary (ISBN 99922-56-25-7) is available for sale from the publisher:
Cholsamaj
1 ra. Av. 9-18, zona 1
Ciudad Guatemala, Guatemala
Centro America
---
Click to download the report in PDF format:
Preparation of a K'ichee' Choltziij Dictionary (110 KB)
The PDF files require Adobe Acrobat Reader.
To download the latest version, click the Get Acrobat Reader button below.

Submitted 07/01/2000
Teléfonos: 232 5959, 232 5402, 232 5417
E-mail:
Website: www.cholsamaj.org