Reconstructing Teotihuacán's Political Structure
Vea este informe en Español.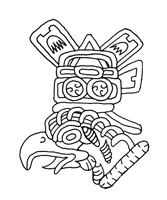 Research Year: 2000
Culture: Teotihuacán
Chronology: Pre-Classic to Early Classic
Location: Teotihuacán, México
Site: Teotihuacán
Table of Contents
Abstract
Resumen
Background of the project
Photographic documentation
Production of illustrations
Conclusions
Because of the nature of this project which is more mechanical than research, this report includes not so much new information, but an update on the various steps taken. This project essentially consists of making illustrations and photographs for a forthcoming book on Teotihuacán's political structure. The need for the illustrations is critical for purposes of quality, copyright, and to produce illustrations of undocumented materials. In addition, a second thrust of this project is to produce a digital database of drawn and photographed images that can be made available for study or publication by the general public or specialists.
Debido a la naturaleza de este proyecto que es más mecánico que la investigación, este informe no incluye tanta información nueva, pero sí una actualización de los pasos tomados. Este proyecto consiste esencialmente en la fabricación de ilustraciones y fotografías para un libro que vendrá sobre la estructura política de Teotihuacán. La necesidad para las ilustraciones es crítica para los propósitos de calidad, derechos de copia, y para producir ilustraciones de materiales indocumentados. Además, un segundo empujón de este proyecto es producir un banco de datos digitales de imágenes de dibujos y fotografías que pueden estar disponibles al público o especialistas para el estudio o publicación general.
The Teotihuacán Trinity, by Annabeth Headrick is in press and will be available from the University of Texas Press. For additional information, please visit: http://www.utexas.edu/utpress/.
---
Click to download the report in PDF format:
Reconstructing Teotihuacán's Political Structure (46 KB)
The PDF files require Adobe Acrobat Reader.
To download the latest version, click the Get Acrobat Reader button below.

Submitted 10/01/2003 by:

Assistant Professor of Art History and Anthropology
Vanderbilt University