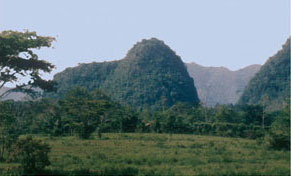 Research Year: 2000
Culture: Maya
Chronology: Late Classic, Tepeu 2
Location: Upper Pasión region, Department of Petén, Guatemala
Site: Raxruja Viejo, El Achiote, El Guaraní, La Caoba
Table of Contents
Abstract
Resumen
Introduction
Raxruja Viejo
El Achiote
El Guaraní
La Caoba
Preliminary Interpretation: Sacred Geography and Settlement Patterns in the Upper Pasión Region
Future Research
List of Figures
Sources Cited
The Upper Pasión region of Guatemala that bridges the physical boundary of the southern Maya lowlands and the highlands has seen little archaeological attention. The strategic position of this region at the head of the Pasión-Usumacinta River route and along the highland-lowland interface is crucial to understanding important issues in Mesoamerican archaeology, including highland-lowland interaction and long distance trade. This FAMSI-funded research project began the systematic exploration of the region by identifying, mapping, and testing a number of sites. Descriptions of the fieldwork, interpretations, and considerations for future research in the region are presented here.
La región del Alto Pasión de Guatemala sirve como frontera entre las tierras bajas mayas del sur y el altiplano, y ha recibido poca atención por parte de la arqueología. La posición estratégica de esta región, en el inicio de la ruta del río Pasión-Usumacinta, pasando por la interfase de las tierras altas y las tierras bajas, es crucial para la comprensión de importantes cuestiones de la arqueología mesoamericana, entre ellas la interacción entre las tierras altas y las tierras bajas y el intercambio a larga distancia. El proyecto de investigación financiado por FAMSI comenzó con la exploración sistemática de la región, con la identificación, mapeo y excavación de un cierto número de sitios. Aquí presento las descripciones del trabajo de campo, las interpretaciones y las cuestiones a tener en cuenta para futuras investigaciones a realizarse en la región.
---
Click to download the report in PDF format:
Cancuén Regional Archaeological Project: Highland-Lowland Influence and Exchange along a Geographical Boundary (1.72 MB)
The PDF files require Adobe Acrobat Reader.
To download the latest version, click the Get Acrobat Reader button below.
Submitted 11/13/2002 by:

Vanderbilt University