"And so, when he goes forth, they know on what day sign he casts his light on certain people, venting his anger against them, shooting them with darts. If it goes on 1 Alligator, he shoots old men and old women, all alike. If on 1 Jaguar or 1 Deer or 1 Flower, he shoots little children. And if on 1 Reed, he shoots nobles. The same with everybody, if on 1 Death. And if on 1 Rain, he shoots the rain, No rain will fall. And if on 1 Movement, he shooots youths and maidens. And if on 1 Water, there is drought, etc. So each sign of these days was venerated by the old men and the old women of former times."
(Bierhorst 1992:36-37)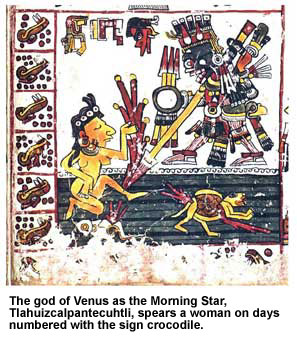 Click on image to enlarge.