Debido a su elaborado y precoz arte en roca de bajo relieve que data de ca. 700-500 a.C., Chalcatzingo, Morelos, ha sido reconocido por mucho tiempo como uno de los sitios arqueológicos más importantes de México del periodo Formativo. Por décadas los académicos notaron las cercanas similitudes entre el tallado de rocas de Chalcatzingo y el arte monumental en los distantes centros olmecas en la Costa del Golfo sur de México. Sin embargo, la naturaleza de Chalcatzingo y la "presencia olmeca" permaneció ahí confusa. ¿Habría sido una colonia olmeca? ¿Un centro de control de comercio? En los años 1970, el Proyecto Arqueológico Chalcatzingo, co-dirigido por Jorge Angulo, Raúl Arana y David Grove, intentó recopilar datos en el pueblo del periodo Formativo - sus viviendas, arquitectura pública y cultura material - para poder comprender mejor la evolución del sitio y también su relación con los olmecas de la Costa del Golfo. Este libro presentando los resultados de esa investigación, es el reporte más extenso y detallado de cualquier sitio del periodo Formativo Medio en el centro de México.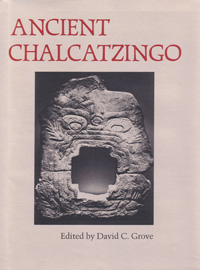 NOTA: Los siguientes archivos de pdf requieren de Adobe Acrobat Reader, para descargar la más reciente versión, haga click aqui.

El texto está disponible en inglés pero existe un resúmen en español al final de cada capítulo. Haga click en el enlace abajo para descargar todos los resúmenes de los capítulos en formato pdf.
Resúmen en español al final de cada capítulo

Los enlaces restantes son solamente para el texto en inglés.
Download Ancient Chalcatzingo by Chapters
NOTE: The following PDF files require Adobe Acrobat Reader, to download the latest version,
.
Table of Contents
Preface
Chapter 1. Introduction (pp. 1-5) – D. Grove (358 KB)
Chapter 2. The Physical and Cultural Setting (pp. 6-13) – D. Grove, K. Hirth, D. Bugé (623 KB)
Chapter 3. Plant Ecology and Paleoecology (pp. 14-20) – D. Bugé (523 KB)
Chapter 4. The Excavations (pp. 21-55) – D. Grove, K. Hirth, A. Cyphers (2.31 MB)
Chapter 5. Chronology and Cultural Phases at Chalcatzingo (pp. 56-61) – A. Cyphers, D. Grove (492 KB)
Chapter 6. The Settlement and Its Architecture (pp. 63-81) – M. Prindiville, D. Grove (1.41 MB)
Chapter 7. The Altar and Associated Features (pp. 82-94) – W. Fash (884 KB)
Chapter 8. Chalcatzingo Burials as Indicators of Social Ranking (pp. 95-113) – M. Merry (1.35 MB)
Chapter 9. A Catalog & Description of Chalcatzingo's Monuments (pp. 114-131) – D. Grove, J. Angulo (1.36 MB)
Chapter 10. The Chalcatzingo Reliefs: An Iconographic Analysis (pp. 132-158) – J. Angulo (2.11 MB)
Chapter 11. Miscellaneous Bedrock and Boulder Carvings (pp. 159-170) – D. Grove (794 KB)
Chapter 12. Chalcatzingo Painted Art (pp. 171-199) – A. Apostolides (1.63 MB)
Chapter 13. Ceramics (pp. 200-251) – A. Cyphers (3.14 MB)
Chapter 14. Chalcatzingo's Formative Figurines (pp. 252-263) – M. Harlan (902 KB)
Chapter 15. Distributional Analysis of Chalcatzingo Figurines (pp. 264-270) – S. Gillespie (360 KB)
Chapter 16. Other Ceramic and Miscellaneous Artifacts (pp. 271-294) – D. Grove (1.49 MB)
Chapter 17. Chalcatzingo Jade and Fine Stone Objects (pp. 295-304) – C. Thomson (666 KB)
Chapter 18. Middle Formative Lithic Industries at Chalcatzingo (pp. 305-320) – S. Burton (1.11 MB)
Chapter 19. Obsidian Blade Manufacturing Debris on Terrace 37 (pp. 321-328) – S. Burton (611 KB)
Chapter 20. Ground Stone Artifacts (pp. 329-342) – D. Grove (1.07 MB)
Chapter 21. Formative Period Settlement Patterns in the Río Amatzinac Valley (pp. 343-367) – K. Hirth (1.85 MB)
Chapter 22. Excavations at Telixtac and Huazulco (pp. 368-375) – T. Majewski (493 KB)
Chapter 23. Raw Materials and Sources (pp. 376-386) – D. Grove (691 KB)
Chapter 24. Classic and Postclassic Chalcatzingo (pp. 387-399) – R. Arana (945 KB)
Chapter 25. The Excavation of a Postclassic House at Tetla (pp. 400-408) – L. Norr (587 KB)
Chapter 26. Contemporary Agriculture at Chalcatzingo (pp. 409-419) – D. Bugé (823 KB)
Chapter 27. Comments on the Site and Its Organization (pp. 420-433) – D. Grove (1.09 MB)
Chapter 28. Chalcatzingo in a Broader Perspective (pp. 434-442) – D. Grove (804 KB)

Appendices
A. Plant Macrofossils from Cave Excavations (p. 443) – D. Bugé (53 KB)
B. Selected Stratigraphic Units (pp. 444-456) – A. Cyphers (521 KB)
C. The Chalcatzingo Burials (pp. 457-480) – M. Merry (1.34 MB)
D. Ceramic Charts and Illustrations (pp. 481-490) – A. Cyphers (402 KB)
E. Descriptions of Chalcatzingo Figurine Attributes (pp. 491-497) – M. Harlan (505 KB)
F. Notes on Jadeite Color (p. 498) – C. Thomson (80 KB)
G. Lithics (pp. 499-508) – S. Burton (617 KB)
H. Río Amatzinac Survey: Site Descriptions (pp. 509-524) – K. Hirth (1.30 MB)
I. Postclassic Artifacts from Tetla (pp. 525-546) – L. Norr (1.25 MB)
J. Faunal Analysis (pp. 547-549) – D. Grove (170 KB)

References Cited (pp. 550-562) (170 KB)
Name Index (pp. 563-564) (75 KB)
Topic Index (pp. 565-571) (460 KB)

Download Ancient Chalcatzingo in Sections
Download the complete book as a PDF file:
Ancient Chalcatzingo in PDF format (37.9 MB).
For those with slower connections, download the PDF file in sections:
Click on the plus (+) to view the chapters in each section.