Ethnicity, Caste, and Rulership in Mixquiahuala, México
Vea este informe en Español.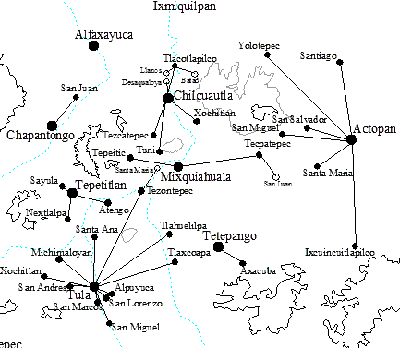 Research Year: 2001
Culture: Mezquital Otomi
Chronology: Colonial
Location: Mixquiahuala, México
Sites: Mixquiahuala and surrounding regions
Table of Contents
Introduction
Mezquital Padrones
Mixquiahuala Parish Records
Family Reconstruction
Naming Practices
Continuity among the Nobility
Language Use
Epidemic Disease
Dissemination
Conclusions
List of Figures>
List of Tables
Sources Cited
Appendix 1. Bienes Nacionales 808:16
Appendix 2. Parish records examined
Appendix 3. The 1737 Matlazahuatl Epidemic in Mixquiahuala and Tecpatepec, México. By: Alexander F. Christensen
This grant was used to fund two trips to México and a continuing program of research in my local Family History Center of the Church of Jesus Christ of Latter Day Saints. Over the two trips, in March and July-August, 2002, I spent 21 days in México. I primarily worked in the Archivo General de la Nación, México City, where I searched for documents on Colonial Mixquiahuala and the surrounding region. The most important of these are a series of padrones, or censuses, from 1717-1718, which are discussed below. The 1718 padrón of Mixquiahuala is transcribed in Appendix 1.
I surveyed the AGN's microfilm collection of parish records to see how sixteenth and seventeenth century records from the broader Mezquital region compared to those from Mixquiahuala. Note that these films contain the same images as the Genealogical Society of Utah rolls available from the LDS Family History Center, but are numbered differently. I also examined a series of microfilms from Ixmiquilpan, Hidalgo, in the Biblioteca Nacional de Antropología. These films included parish records from Ixmiquilpan and Alfaxayuca, as well as other Colonial municipal documents. I made several trips from México City to Hidalgo to visit Mixquiahuala and its neighbors and get a better feel for their geographic setting and how they related to one another.
In the United States I have consulted a total of thirteen rolls of microfilmed parish records, primarily those from Mixquiahuala itself but also some from Chilcuautla, Tepetitlan, Tetepango, and other neighboring parishes. Over an estimated 400 hours, I have transcribed 6673 baptism, 1210 marriage, and 2460 death records. The contents of the rolls examined are described in Appendix 2, with their current transcription status. I have also explored U.S., Mexican, and Canadian libraries, where I have found detailed, and often unpublished, accounts of the population history of comparable communities in Hidalgo and Puebla.
In this report, I survey what I have learned until now from my research into the population of Mixquiahuala. I focus on Mixquiahuala and its subject communities, but also address the surrounding Teotlalpan (as defined by Cook 1949) and broader Mezquital region (using Othón de Mendizabal's definition of the Mezquital as the area of the Rio Tula and Moctezuma drainages [Melville 1994]). Note that these results depart somewhat from the research questions in my initial proposal, as the records have drawn my analysis in somewhat different directions than I had originally intended.
I have only now begun to write results up for publication; Appendix 3 contains the single abstract that I have submitted based on this research.
---
Click to download the report in PDF format:
Ethnicity, Caste, and Rulership in Mixquiahuala, México (708 KB)
The PDF files require Adobe Acrobat Reader.
To download the latest version, click the Get Acrobat Reader button below.
Submitted 10/04/2002 by: