The Glyphic Corpus from Ek' Balam, Yucatán, México
Translation of the Spanish by Alex Lomónaco
Vea este informe en Español.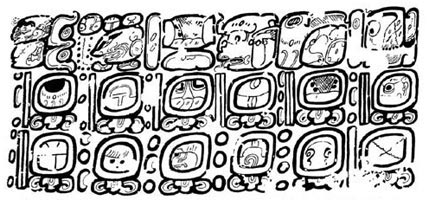 Research Year: 2002
Culture: Maya
Chronology: Terminal Classic
Location: Yucatán, México
Site: Ek' Balam
Table of Contents
Introduction
The Glyphic Corpus from Ek' Balam
Monumental Inscriptions
Painted Texts
Cover of Vaults (Capstones)
Hieroglyphic Mural Paintings
Miscellaneous Texts
Epigraphic Comments
Dates from Ek' Balam
The Name of the Kingdom of Ek' Balam
Lords from Ek' Balam
Kings from Ek' Balam
Other Characters Mentioned in Ek' Balam
Comments on Mural A or Mural of the 96 Glyphs: Implications for the Dynastic History of
Ek' Balam
Linguistic Comments
Acknowledgements
Lists of Figures and Photographs
Sources Cited
This report is the result of epigraphic investigations carried out at Ek' Balam between 1998 and 2002, as collaborator epigrapher for the Ek' Balam Architectural Restoration Program (Proyecto de Restauración Arquitectónica Ek' Balam) conducted by Archaeologist Leticia Vargas de la Peña, from the Regional INAH office in Yucatán, in the frame of my association with the Archaeology Department of the School of Anthropological Sciences, Autonomous University of Yucatán 1 and the Institute of Filology from the Higher Council of Scientific Research in Madrid. The final stage of this investigation has been accomplished thanks to a research grant awarded by the Foundation for the Advancement of Mesoamerican Studies, Inc., (FAMSI) in 2002.
---
Click to download the report in PDF format:
The Glyphic Corpus from Ek' Balam, Yucatán, México (6.03 MB)
The PDF files require Adobe Acrobat Reader.
To download the latest version, click the Get Acrobat Reader button below.
Submitted 03/06/2003 by:

Departamento de Arqueología–FCA, UADY, Yucatán (México)
Sociedad Española de Estudios Mayas–UCM, Madrid (España)