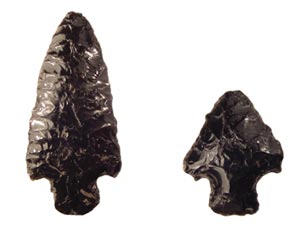 Research Year: 2002
Culture: Cacaxtla
Chronology: Late Classic and Epi-Classic
Location: Toluca Valley, México
Site: Santa Cruz Atizapan
Table of Contents
Abstract
Resumen
Introduction
Settlement History
Santa Cruz Atizapan Obsidian
Obsidian Use
Obsidian Exchange
List of Figures
Sources Cited
In 2002 and 2003, a technological analysis was performed on a collection of 11,000 obsidian objects from the Late Classic and Epiclassic period (circa A.D. 500-900) site of Santa Cruz Atizapan, Toluca Valley, México. This research is part of a broader dissertation project that is attempting to interpret the economic, political and social dynamics that influenced the procurement and use of obsidian in a unique lacustrine environment during a critical period of human occupation in the Toluca Valley. Consistent with most Mesoamerican archaeological assemblages, the obsidian from the Santa Cruz Atizapan site reveals a dominant core-blade technology consisting of modified and unmodified prismatic blade fragments (N=9,399). Prismatic blade scraper, perforator, needle and eccentric forms are represented along with formally and informally shaped non core-blade flake tools (N=220). Projectile points and un-notched bifacially worked tools represent a secondary technology in the obsidian collection (N=337). This report provides a description of the analyzed obsidian and offers preliminary conclusions regarding the role of obsidian within the Santa Cruz Atizapan site during the Late Classic and Epiclassic periods.
En 2002 y 2003 se realizó un análisis tecnológico de atributos en una colección de 11,000 objetos de obsidiana excavados en el sitio de Santa Cruz Atizapan, en el Valle de Toluca, México, que fue ocupado desde el Clásico Tardío (450-600 d.C.) hasta el final del Epiclásico (600-900 d.C.). Esta investigación forma parte de una tesis de doctorado diseñada para interpretar la dinámica económica, social, y política que influenció la adquisición y el uso de obsidiana en un ambiente lacustre durante un período crítico en la historia del hombre en el Valle de Toluca. En concordancia con la mayoría de las colecciones arqueológicas de Mesoamérica, la obsidiana del sitio de Santa Cruz Atizapan muestra una tecnología sobre núcleos poliédricos que consiste en fragmentos de navajas prismáticas modificados y sin modificar (N=9,399). Perforadores, agujas y excéntricos se presentan junto con instrumentos formados de lascas talladas por percusión (N=220). Las puntas de proyectil y las bifaciales sin muescas representan una tecnología bifacial secundaria de la colección (N=337). Este informe proporciona una descripción de la obsidiana analizada y ofrece conclusiones preliminares con respecto al papel que jugó la obsidiana en el sitio de Santa Cruz Atizapan, durante el Clásico Tardío y el Epiclásico.
---
Click to download the report in PDF format:
Late Classic and Epiclassic Obsidian at Santa Cruz Atizapan, Toluca Valley, México (164 KB)
The PDF files require Adobe Acrobat Reader.
To download the latest version, click the Get Acrobat Reader button below.
Submitted 11/17/2003 by: