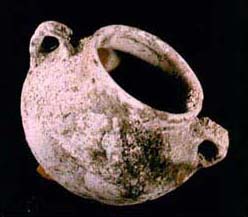 Research Year: 2002
Culture: Maya
Chronology: Early Classic
Location: Copán, Honduras
Site: Motmot Structure - Buried Beneath Marker
Table of Contents
Abstract
Resumen
Introduction
Documentation and Conservation
Analysis
Discussion
List of Figures
Sources Cited
Appendix: Table 1. Pigments
This project focused on the documentation, conservation, and analysis of artifacts and pigments from a series of Early Classic (ca. A.D. 400-600) ritual deposits at the Classic Maya site of Copán in western Honduras. These offerings were associated with a hieroglyphic monument and burial (field name, Motmot) found beneath the pyramid of the Hieroglyphic Stairway in the civic-ceremonial center of the site. The primary objectives of this project were to provide detailed documentation of the Motmot artifacts as well as to identify other material residues (primarily pigments) associated with the Motmot marker in order to yield additional data that could be correlated with known textual and contextual information. Two publications are currently in preparation that correlate these new data with epigraphic and archaeological evidence to create a more complete picture of the relationship between political events, religious beliefs, and ritual activities at Early Classic Copán.
Este proyecto se concentró en la documentación, conservación, y análisis de los artefactos y de otros restos materiales provenientes de una serie de ofrendas rituales fechadas para el período Clásico Temprano (ca. 400-600 d.C.) en el sitio maya clásico de Copán, en el occidente de Honduras. Las ofrendas estaban asociadas con un monumento jeroglífico y un entierro (nombre de campo, Motmot) descubiertos bajo la pirámide de la Escalera Jeroglífica en el centro del sitio. Los depósitos incluyeron pigmentos y materiales orgánicos descubiertos encima del monumento jeroglífico, así como cerámica, jade, concha, y huesos de animales recuperados adentro de la cripta funeraria cuya ocupante era una mujer joven. Los objetivos principales de este proyecto fueron los de crear una documentación detallada de los artefactos, así como identificar los pigmentos recuperados encima del monumento. Dos publicaciones que actualmente están en preparación, proporcionan una correlación entre los nuevos datos revelados por este proyecto, y la información textual y contextual ya establecida, para mejor entender la relación entre los eventos políticos, las creencias religiosas, y las actividades rituales en Copán durante el período Clásico Temprano.
---
Click to download the report in PDF format:
A Study of Early Classic Maya Ritual at Copán, Honduras (560 KB)
The PDF files require Adobe Acrobat Reader.
To download the latest version, click the Get Acrobat Reader button below.
Submitted 12/03/2003 by: