With contributions by Gregory Tyndall, Bruce Benz, Sarah Jennings, Kathy Beekman, and Bruno Calgaro.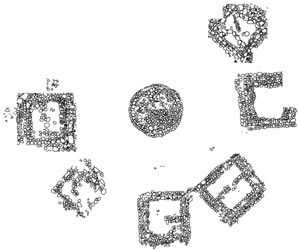 Research Year: 2003
Culture: Teuchitlán
Chronology: Late Pre-Classic
Location: Jalisco, México
Site: Navajas
Table of Contents
Abstract
Resumen
Project Background and Goals
Navajas
Fieldwork
Results
Conclusions
List of Figures
Sources Cited
The Teuchitlán tradition was a regional complex society centered in the lake basins of Jalisco, México, defined by the use of concentric circular public architecture. Survey and piecemeal excavations have unfortunately dominated archaeological research into this society. The project carried out a horizontal exposure excavation of Circle 5 at the site of Navajas, with associated soil sampling for macrobotanical analysis. Data recovered has allowed a closer comparison of the different components of an entire small circle. We evaluate current models suggesting that feasting accompanied social competition between the different kin groups believed to be associated with the circle, and that agricultural ritual may have been a central component of an ideology that justified the actions of elites.
La tradición de Teuchitlán fue una sociedad compleja regional localizada en las cuencas laguneras de Jalisco, México, definida por una forma distintiva de arquitectura pública circular. Desafortunadamente, fueron los reconocimientos y excavaciones hechos por partes los que predominaron en las investigaciones arqueológicas de esta sociedad. En el proyecto se llevaron a cabo excavaciones horizontales en el Círculo 5 del sitio de Navajas, junto con un muestreo limitado de suelos para realizar análisis macrobotánicos. Los datos reunidos nos permiten hacer un análisis más detallado y hacer comparaciones entre las estructuras que componen un círculo pequeño completo. Con estos datos podremos evaluar modelos teóricos que plantean que los festejos acompañaban a las competencias sociales entre distintos grupos de parentesco que supuestamente estaban asociados con el círculo. También discutimos la relevancia del Círculo 5 para plantear la importancia del ritual agrícola como componente de la ideología política.
---
Click to download the report in PDF format:
Public Architecture: Navajas, Jalisco, México (595 KB)
The PDF files require Adobe Acrobat Reader.
To download the latest version, click the Get Acrobat Reader button below.
Submitted 05/20/2004 by: