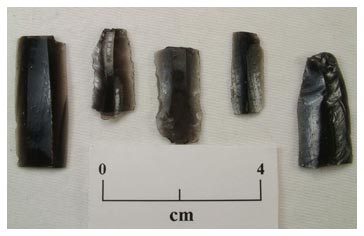 Research Year: 2003
Culture: Mixtec
Chronology: Pre-Classic
Location: Nochixtlán Valley, Oaxaca, México
Site: Etlatongo
Table of Contents
Abstract
Resumen
Introduction
Background: The Mixteca Alta and Etlatongo
Instrumental Neutron Activation Analysis of Obsidian
Intra- and Interregional Interaction: Diachronic and Synchronic Data
Conclusion
Acknowledgements
List of Figures and Tables
Sources Cited
Appendix 1. Element Concentrations, Site Names and Source Names for Obsidian Artifacts from Oaxaca
In order to determine the nature and extent of interregional interaction during the Early Formative period at Etlatongo, in the Nochixtlán Valley of Oaxaca, México, 207 obsidian samples have been sourced to determine the origin of each fragment. The results document that the ancient villagers utilized obsidian from nine sources, with the majority (65%) coming from the Parédon source, in Puebla. Differences in types of obsidian and frequencies between different contexts at Etlatongo show selective participation in various networks by the Early Formative villagers. These data contrast with those from Early Formative sites in the Nochixtlán Valley and the Cuicatlán Cañada, where the majority of obsidian comes from Guadalupe Victoria, Puebla. In order to understand changes through time, 106 Late Formative obsidian fragments from Etlatongo were sourced. Seven sources were utilized. While the Paredón source still maintained great importance, other sources comprised a larger portion of the sample than earlier, while several new sources were exploited. Samples from the Valley of Oaxaca and the Isthmus of Tehuantepec provide comparative data on Late Formative obsidian utilization. These data are crucial for understanding interaction and social complexity in the Mixteca Alta and beyond.
Con el fin de determinar la naturaleza y extensión de la interacción regional durante el Formativo Temprano en Etlatongo, en el Valle de Nochixtlán de Oaxaca, México, se han utilizado 207 muestras de obsidiana como fuente para determinar el origen de cada fragmento. Los resultados evidencian que los antiguos habitantes de la localidad utilizaban obsidiana de nueve fuentes diferentes, de las cuales la mayoría (65%) proviene de la fuente de Paredón, en Puebla. Las diferencias entre los tipos de obsidiana y las frecuencias entre los diferentes contextos de Etlatongo muestran la diferente participación de varias redes de producción por parte de los habitantes del Formativo Temprano. Esta información contrasta con aquella de los sitios del Valle de Nochixtlán y de la Cañada de Cuicatlán del Formativo Temprano, donde la mayor parte de la obisidiana provenía de Guadalupe Victoria, Puebla. A fin de entender los cambios ocurridos a través del tiempo, se utilizaron 106 fragmentos de obsidiana de Etlatongo como fuente. Se usaron siete fuentes diferentes. Mientras que el sitio de Paredón aún mantenían su importancia como fuente, otras zonas comprendieron una porción más grande de muestras que antes, en tanto que otras nuevas fuentes pasaron a ser explotadas. Los datos se comparan con muestras del Valle de Oaxaca y del Istmo de Tehuantepec. Esta información es crucial para poder entender la interacción y la complejidad social de la Mixteca Alta y más allá.
---
Click to download the report in PDF format:
Diachronic and Synchronic Analyses of Obsidian Procurement in the Mixteca Alta, Oaxaca (170 KB)
The PDF files require Adobe Acrobat Reader.
To download the latest version, click the Get Acrobat Reader button below.
Submitted 06/24/2004 by:

George Washington University