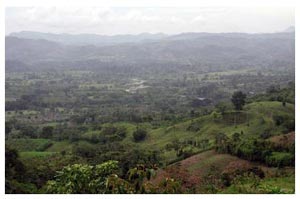 Research Year: 2003
Culture: Maya
Chronology: Classic
Location: Copán, Honduras
Site: El Paraíso
Table of Contents
Abstract
Resumen
Introduction
Affiliations in the Southeast Maya Area
El Paraíso Valley: Relevance and Research History
Location
History of Research at El Paraíso
Peabody and other early explorations
PAC I
PAREP
Research 2003
Reconnaissance of the region
El Paraíso–Quiriguá
El Paraíso and El Puente
El Paraíso and Río Amarillo/Copán
Discussion
Survey of the valley
Settlement density
Settlement complexity
Valley patterns
Spatial plan and architecture
Chronology
Discussion
Excavations
El Paraíso
Dating
Architecture
Special features
Material culture
Discussion
El Cafetal
Dating
Architecture
Special features
Material culture
Discussion
Conclusions
Future Plans
List of Figures
Sources Cited
No group can be understood in isolation–it is through interaction with others that identity is created. To further our understanding of the Classic period (A.D. 600-900) Maya and their neighbors, investigations have been undertaken at Classic Maya centers located in the El Paraíso valley, Department of Copán, Honduras. An interactionist approach is used to examine Classic period Maya identities and the local and regional interaction networks that created them. Data produced in the survey, mapping, and excavation of the El Paraíso archaeological record will be compared with information from Copán and Quiriguá and non-Maya settlements in the same valley to produce a more nuanced model of identity and interaction in the southeast Maya area.
Ningún grupo isolado se puede entender–es a través de interacción con otros que identifica su identidad. Para entender mejor nuestro conocimiento del periodo Clásico Maya (600-900 d.C.) y sus vecinos, se han conducido investigaciones en centros Clásicos Maya ubicados en el valle El Paraíso, Departamento de Copán, Honduras. Un acercamiento de interrelación es usado para examinar identidades Maya del periodo Clásico y las redes de interrelación regional y local que los crea. La información producida en el estudio, trazado, y excavación del registro arqueológico de El Paraíso será comparado con información de Copán y Quiriguá y no asentamientos Maya en el mismo valle para producir un modelo más matizado de indentidad e interacción en el área sureste Maya.
---
Click to download the report in PDF format:
Classic Maya Borders and Frontiers: Excavations at El Paraíso, Copán, Honduras, 2003 Season (4.98 MB)
The PDF files require Adobe Acrobat Reader.
To download the latest version, click the Get Acrobat Reader button below.
Submitted 04/15/2004 by:

Yale University