Chocolá Archaeological Project, Guatemala
Translation of the Spanish by Alex Lomónaco
Vea este informe en Español.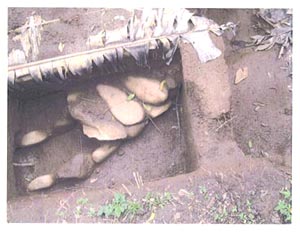 Research Year: 2004
Culture: Maya
Chronology: Preclassic and Classic Periods
Location: San Pablo Jocopilas, Department of Suchitepéquez, Guatemala
Site: Chocolá
Table of Contents
Abstract
Resumen
Introduction
Survey and Mapping
The Excavation Process
Excavation at Structure 5
Excavation at Structure 15
Knowledge of Hydraulic Management
Archaeological Salvage
Preparation of the Sculpted Monuments Catalog
Ceramic Analysis
Obsidian Analysis
Industrial Archaeology Research
Final Comments
Acknowledgements
List of Figures
Sources Cited
Based on older as well as still accumulating evidence, scholars assume that innovative developments occurred in the southern Mesoamerican area during the Preclassic period (1500 B.C. – A.D. 200) that strongly influenced the later great Mesoamerican civilizations. Ironically, scholars lack a clear sense of even the broader events and processes that shaped southern Guatemala's history and gave it its peculiar and, long assumed, seminal character. The investigations in Kaminaljuyú and Abaj Takalik in the last decades, showed the strong relationship between these two regions, and considered the presence of other sites between both zones, like Chocolá, participating in the same political entity and sharing ideological, technological and economic advances. The strategic position of Chocolá, could bring answers to these questions and many others, including those surrounding the study of theoretical problems as evolutionary sociopolitical processes that led to the subsequent creation of urban societies.
Tomando en consideración los datos arqueológicos, se sabe que en el área Sur de Guatemala y México se produjeron innovadores desarrollos durante el período Preclásico (1500 a.C. - 200 d.C.), que influyeron notablemente en el futuro de las culturas vecinas. Sin embargo, algunas veces se carece de un sentido claro de los sucesos y procesos determinantes que configuraron la historia de la región sur de Guatemala y que le dieron desde hace tiempo su ya asumido carácter seminal. Las investigaciones efectuadas en las últimas décadas en Kaminaljuyú y Abaj Takalik han demostrado la estrecha relación existente entre ambas zonas, por lo que se considera que otros sitios localizados en medio de ellos, como Chocolá, también debieron participar de la misma entidad política y gozar de los avances ideológicos, tecnológicos y económicos notados en estos dos grandes centros. La posición de Chocolá puede dar una respuesta a ello y a muchas otras inquietudes, incluyendo el estudio de problemas teóricos, como procesos de evolución sociopolítica que condujeron a la posterior creación de sociedades urbanas.
---
Click to download the report in PDF format:
Chocolá Archaeological Project, Guatemala (1.88 MB)
Chocolá Archaeological Project: Report No. 2, Second Season 2004
The PDF files require Adobe Acrobat Reader.
To download the latest version, click the Get Acrobat Reader button below.

Submitted 02/24/2005 by:

University of San Carlos, Guatemala