Ancient Maya Plant Use Activities and Agroforestry at Tikal, Guatemala
Interim Report
Vea este informe en Español.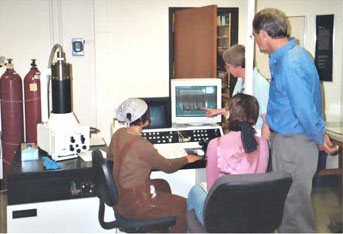 Research Year: 2004
Culture: Maya
Chronology: Pre-Classic to Post Classic
Location: Guatemala
Site: Tikal
Table of Contents
Introduction
Specific Objectives
Methodology
Contribution to our Current Understanding of Ancient Mesoamerican Culture
List of Figures
Sources Cited
The goal of this project is to conduct a paleoethnobotanical study of the plant materials from Tikal, perhaps the preeminent civic-ceremonial site of the ancient Maya. Although no paleoethnobotanical samples per se were collected during excavations, there were over 1500 samples collected for radiocarbon dating (a purpose for which they are no longer needed), and many of these weigh over 100 g. The PI of this project, Lentz, went to the University of Pennsylvania University Museum in May of 2004 to talk with curators, inspect the Tikal plant materials and arrange for shipment. The personnel at the University Museum were extraordinarily kind in all respects and shipped the Tikal plant remains to the Chicago Botanic Garden on June 20, 2004. The remains arrived without incident and were received in good condition. These samples are composed almost entirely of seeds and charred wood. Unearthed from strata ranging from Pre-Classic (ca. 450 B.C.) to Terminal Classic/Post Classic (ca. A.D. 900+) times and represent an extraordinary opportunity to study the plant use practices of the ancient Maya in the heart of their foremost polity.
---
Click to download the report in PDF format:
Ancient Maya Plant Use Activities and Agroforestry at Tikal, Guatemala (457 KB)
The PDF files require Adobe Acrobat Reader.
To download the latest version, click the Get Acrobat Reader button below.

Submitted 08/26/2004 by:
David L. Lentz, Ph.D.
Chicago Botanic Garden
1000 Lake Cook Road
Glencoe, IL 60022
dlentz@chicagobotanic.org