The Inhabitants of Q'umarkaaj, Late Postclassic K'iche'-Mayan Capital: Guatemalan Highlands
Archaeological Data and Current Representations
Translation of the Spanish by Kim Goldsmith
Vea este informe en Español.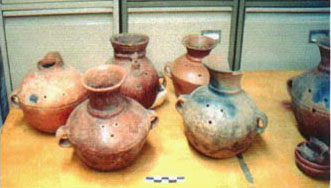 Research Year: 2004
Culture: K'iche'-Maya
Chronology: Late Postclassic
Location: Santa Cruz de El Quiché, Guatemala
Site: Q'umarkaaj
Table of Contents
Abstract
Resumen
Introduction
Excavations at Q'umarkaaj
South Terrace Staircase
East Platform and West Platform in the Central Terrace
Ceramic
Obsidian
Conclusions
Acknowledgements
List of Figures
Sources Cited
The 2002-2004 Q'umarkaaj Project used three disciplines as principle axes of investigation: Ethnohistory, Ethnography and Archaeology. The third part of the project, that is, the archaeological excavations and the analysis of cultural material, was made possible through a generous grant by the Foundation for the Advancement of Mesoamerican Studies, Inc. (FAMSI - grant #03057). By means of these excavations we were able to detect the presence of architectural remains, as well as determine their morphology and the possible functions of the two structures further away from the Main Plaza of the site. The location and dimension of these structures, though modest, and the cultural material associated with them provide indispensable information for the understanding of the social organization of the last K'iche'-Mayan capital.
En el proyecto Q'umarkaaj 2002-2004, se utilizaron tres disciplinas, como ejes principales de investigación: la etnohistoria, la etnografía y la arqueología. El tercer eje del proyecto, es decir, las excavaciones arqueológicas y el análisis del material cultural excavado se realizó gracias a la ayuda financiera de la Fundación para el Avance de los Estudios Mesoamericanos, Inc., (FAMSI - Beca #03057). A través de estas excavaciones se pudo detectar la presencia de vestigios arquitectónicos, determinar su morfología y las posibles funciones de dos estructuras alejadas de la Plaza Principal del sitio. La situación de estas estructuras, sus dimensiones modestas y el material cultural asociado a ellas proporcionan información indispensable para la comprensión de la organización social en la última capital Maya-K'iche'.
---
Click to download the report in PDF format:
The Inhabitants of Q'umarkaaj, Late Postclassic K'iche'-Mayan Capital: Guatemalan Highlands (1.21 MB)
The PDF files require Adobe Acrobat Reader.
To download the latest version, click the Get Acrobat Reader button below.

Submitted 02/18/2005 by:
Micaela Raquel Macario Cálgua
University of Paris I-La Sorbonne
fmacario@yahoo.com.mx